Training for the Future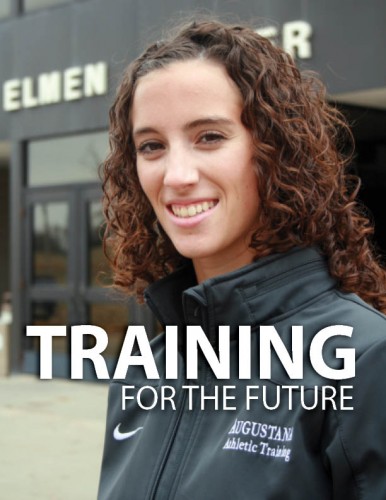 A double major in athletic training and exercise science, senior Sarah Rech, a native of Woodbury, Minn., is planning on a career in physical therapy.
Q. Why did you choose to "Go Viking?
A. Growing up, I attended a camp in the Black Hills every year. Many of the counselors who worked at this camp came from Augustana. When I began touring colleges, I looked at Augustana right away. Augie had the major that I was interested in, and I really enjoyed my visit!
Q. Augustana is about four hours from your home so you probably spend a lot of weekends on campus? Talk about the social/study scene on Saturday and Sunday.
A. I am here pretty much every weekend! Every weekend, Union Board of Governors (UBG) puts on a variety of events on campus. The Elmen Center also hosts late night events a few times a month. In addition, there are sporting events most weekends which are a blast to watch! There are many things you can do off campus as well. On the weekends, I often study at local coffee shops where I see other Augie students hard at work as well.
Q. What have you discovered about Sioux Falls during your time here? As a student, what opportunities/benefits have you found in the city so far?
A. Sioux Falls is a large and rapidly growing city with a lot of opportunities for students, including a wide array of volunteer positions and plenty of jobs as well. There are also plenty of entertainment venues in Sioux Falls, many of which offer discounts to students.
Q. What is the best aspect of living on campus?
A. The social aspect is by far the best part of living on campus. This is my third year living in the dorms, and I love being able to walk down the hall to hang out with my friends. Living in the dorms makes it very easy to socialize with other students, and make new friends.
Q. Are you involved in any clubs, organizations, or activities?
A. Being an Athletic Training major makes this rather difficult. However, I was a New Student Orientation (NSO) leader for the past two years, and I am a Big Sister for the Big Brothers and Big Sisters Program. I also volunteer at Sanford Hospital in the inpatient rehabilitation unit.
Q. Where is your favorite place on campus?
A. My favorite place on campus is by the windows in the library. The library is a great place to study. When you need a study break it is also a great place to watch the squirrels on campus!
Q. You are pursuing majors in both Athletic Training and Exercise Science. How did you choose those majors? What do you enjoy most about them? What are your career aspirations?
A. I have always found athletic training very interesting, and being an injured athlete in high school piqued my interest in the subject. Exercise science is very similar to athletic training, but offers a different way of learning about the human body. I enjoy being able to work with athletes first-hand and having the opportunity to help out behind the scenes at athletic events. I have plans to attend graduate school for physical therapy after I graduate.
Q. What has been your favorite class so far?
A. My favorite class was "Assessment of Athletic Injuries." This class teaches students how to diagnose an injury, and creates an overall understanding of human anatomy and how injuries occur.
Q. Do you have a favorite professor?
A. Being an athletic training major, Brian Gerry (BG) would have to be my favorite professor! "BG" has been an athletic trainer at Augustana for 19 years and inspires students with his passion for Augustana's athletes.
Q. What is your best Augustana memory/moment so far?
A. My best memory so far would have to be watching the University of Sioux Falls-Augustana football game. There were so many people there supporting both teams, and it was the most intense football game I have ever been to!
Q. What would you say to students considering Augustana?
A. If you are looking for a small school with a great sense of community, Augustana is the place for you!