Freshman Year Reflections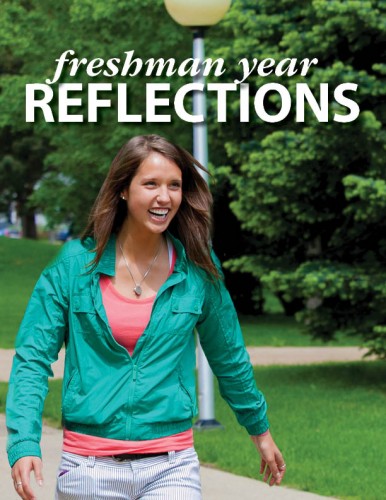 Ellie Erickson, a Nursing and 
Government/International Affairs major from Vadnais Heights, Minn., looks back on her first year away from home
Q. Why did you choose to "Go Viking?"
A. As a senior in high school I was completely unsure of my future, what I wanted to do and how to go about exploring it. When I visited the campus, I found that the Augustana staff seemed to genuinely care about me and would be there for me if I sought out help. This was the sole reason why I chose to "Go Viking".



Q. You just completed your freshman year. Did Augustana meet your expectations? Any surprises?
A. Yes, Augustana proved to provide my every need and take care of me if I needed help. I was surprised to find how comfortable I felt at school and that Augustana truly became another home for me.

Q. Do you have any advice for those about to make the transition to college?
A. Stay on campus for the full first month! I discovered that the few students who went home had a harder time feeling like "part of" the college life. It may be nerve-racking at first but everyone is in the same situation so know that you will not be alone. Likewise, Augustana puts on endless exciting events throughout the first month (not to mention the whole year).

Q. Augustana is about five hours from your home so you probably spent a lot of weekends on campus? Talk about the social/study scene on Saturday and Sunday.
A. UBG (Augustana's event committee) puts on a variety of activities for students on the weekends (90 events in one year). A few of my favorites were midnight bingo, standup comedians, magicians, the Mentalist, drag shows and tie dying t-shirts. My Sundays were consumed by long hours in the library where most of campus could be found studying.

Q. What have you discovered about Sioux Falls during your time here? As a student, what opportunities/benefits have you found in the city so far?
A. Sioux Falls has many stores and restaurants for students when they need a little time off campus. I also took advantage of the bike trail that winds through Sioux Falls and runs parallel to the Big Sioux River. Lastly, at $3 a ticket, the West Mall 7 movie theater was a great, cheap opportunity to view new movies.

Q. What is the best aspect of living in the first-year residence halls?
A. I enjoyed living by my friends. It was fun to be able to go brush your teeth in the morning and be greeted by your classmates. In a way it felt like a continuous slumber party!

Q. Did you get involved in any clubs, organizations, or activities?
A. Most definitely. I was involved in the Augustana Nursing Students Association (ANSA), Outreach Ministry and several intramural sports.

Q. Where's your favorite place on campus?
A. The Mikkelsen Library! I find myself there several times a day to study and relax. [Another great spot is the] Morrison Commons for meals, where I could see all my classmates and forget about classes for an hour.

Q. Do you have a favorite professor?

A. I'd say Dr. Craig Spencer. He's always calm and has interesting stories to tell.

Q. What is the most valuable thing you learned this year?
A. That I am stronger than I realized and can rely on myself in many situations. However, even a strong person needs to lean on others in certain situations. All you have to do is ask and you will realize that there are numerous people out there willing to help you.

Q. Favorite class so far?
A. Over J-term I took a gender studies class titled "Gender in the Workplace and Family." I became aware of the inequality that still exists between genders.

Q. What is your best Augustana memory/moment so far?
A. Talking with my idol Angie Hummel (Augustana class of 2006 and former Admission Counselor), who inspires me to go out and do good. But also, when my Peer Advisors (PAs) made us all pancakes at midnight! I hung out in the lounge all night and ate blueberry, chocolate chip, buttermilk and autumn-cinnamon pancakes. They were delicious!

Q. What would you say to students considering Augustana?
A. That Augustana is a great choice for anyone who is willing to make new friends and become a part of the Augustana lifestyle.