Out of Africa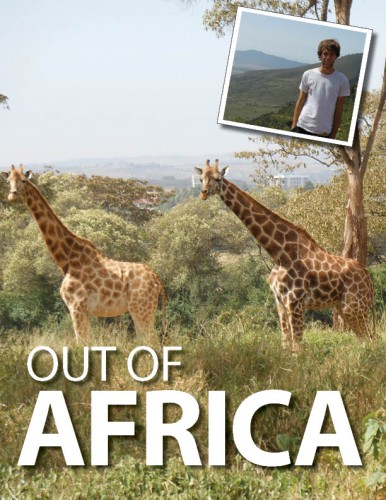 Meet senior Sam Evenson, a biology major from Sioux Falls, who recently returned from a semester studying health and community development in Kenya. He shares his thoughts on the value of studying abroad and why Augustana was the right choice for him.
Q. You just completed a study abroad experience in Kenya. Wow! What made you choose a program in Kenya? Please share the highlights/details of your experience.
A. I chose Kenya because I wanted to challenge myself. I've always held the personal philosophy that we grow most when facing adversity, and I felt that in many ways what makes studying abroad special is the opportunity to place oneself in independent and foreign situations. In addition, I was looking for a program that focused on immersion and experiential learning while maintaining topics that had relevance to my career interests. The organization I chose (the School for International Training (SIT)), has a program in Kenya focused on health and community development. It was a great fit for those reasons. I truly enjoyed and value my experience abroad, and in retrospect, I wouldn't change anything about it.
Highlights? There were so many: living with a homestay in Nairobi (the capital of Kenya, with 4 million people) for two and a half months; living with a homestay in a rural village for 10 days; living with peers for a month on our own while conducting an independent research project (culminating in a 147 page document I wrote on the Kenyan education system); eating ostrich, then riding an ostrich; riding a camel; participating in a 10-day educational tour of Tanzania — where we stayed with a former leader of the Black Panther Party, and later stayed with a [real] Maasai tribe; experiencing different cultures in Kenya and Tanzania; and then after, traveling to Zanzibar with friends. Oh, and seeing the stars uninhibited by light pollution (especially during the rural homestay, when with the Maasai, and in Zanzibar). Amazing.
Q: Why did you choose to "Go Viking?"
A: Augustana, for me, was a life-decision based on value and community. My initial interest in Augustana began with hearing about its superior academics – touting some of the best science programs in the Midwest. While looking at Augustana's undergraduate tuition, compared to other comparable colleges, there was no competition. In addition, Augustana has a reputation for helping its students out financially with scholarships, especially those students who work hard, while maintaining a faculty focused on individual students and their successes, as opposed to what many larger colleges can offer. Finally, when visiting Augustana's campus it quickly became apparent to me that Augustana boasts a student population that is well-rounded, engaging, and surprisingly diverse (largely from its international students). Altogether, Augustana became an easy decision – one, as I'm entering my senior year, I'm very grateful I made.
Q. Have you felt as though you've "gone away" to college even though you are from Sioux Falls?
A. Yes, and in many ways this is one facet of Augustana I believe many high school students overlook when considering colleges. One of the true values of Augustana is in its community. It's easy to become immersed in academics, events, intramurals, clubs, and friends at Augustana. Along with its campus, it's not hard to feel isolated from Sioux Falls (which, as I have grown up in Sioux Falls my entire life, was often a relief and reinvigorating). Yet I believe Augustana also makes a conscientious effort to tie together events on campus with the greater Sioux Falls community. Personally, I have found that Augustana has been able to bring about a renewed outlook on Sioux Falls and the type of events, places, and needs it has, and through this process I have become more active as a member of the Sioux Falls community. (For example, as co-president of Augustana's environmental club, Augie Green, I helped maintain a garden on campus last summer which donated more than 400 pounds of produce to The Banquet downtown.)
Q. What are the advantages Sioux Falls provides for you as a student?
A. Sioux Falls has always been recognized in some ways for its economic stability.  From comparing what many of my friends on the East Coast go through when searching for a job, I think students here have a much easier time gaining employment while still maintaining many of the social and career opportunities that come with a bigger city. For me, having two major hospitals in Sioux Falls has been a blessing.  I've been able to do job shadowing, an internship, and volunteer through Sanford Health and Avera McKennan, and thereby gain the experience I needed to choose which career I want to pursue. Another notable factor, one which I often overlook from living in Sioux Falls before college, is the safety. I often go running late at night and, from knowing the area, feel completely safe doing so.  Compared to my experience abroad – where staying out after the sun sets is to put yourself in significant, even life-threatening danger – I've come to cherish this about Sioux Falls.
Q. Are you involved in any clubs, organizations, or activities on campus?
A. Yes, I am currently co-president of the environmental club Augie Green; co-president of the Augustana Pre-Med club; a writing tutor for the Writing Center; a biology tutor and teaching assistant for the Biology Department; a research student; a member of Tri-Beta, the national biology honors society; a member of Phi Sigma Tau, the international philosophy honors society; I am also less active in but a member of the Augustana Philosophy Club and Biology Club. I also volunteer as a piano player for Augustana's Chapel of Reconciliation when needed.
Q. Where's your favorite place on campus?
A. I've heard it referred to as "Memory Garden," but the crop of plants and landscape occupying the area between the Administration building and East Hall in the northeast corner of campus are wonderful. While most all of campus maintains a pretty tranquil atmosphere during the year, I've always felt that Memory Garden has its own serenity and way of representing the seasons and years as they pass. During the summer it's one of my favorite places to eat lunch and relax when life is getting too busy or stressful.
Q. What's been your favorite class so far?
A. My favorite class so far has been organic chemistry taught by Dr. Jared Mays. I believe I'm usually most engaged when I'm challenging myself, and from being engaged able to excel and enjoy the class more. There is also something fun about entering a discipline you have little to no experience with and simply adapting to the kind of perception that class presents.
Q. Talk about your experience(s) with undergraduate research. What has been the value to you as a prospective med student?
A. I'm a strong proponent of undergraduate research. It allowed me to truly put into play much of what I have been learning in science classes while helping me understand what topics or fields I would like to focus on in the future. Furthermore, it gave me insight into the scientific and investigative process and how advancements in certain fields come about. Honestly, from conducting research, I feel led to strongly consider a career in research, particularly as an M.D./Ph.D. As a pre-med student, research has helped me gain experience and contact with professionals in fields closely aligned with my chosen career.
I conducted research first with Photo Biomed, a small biomedical research company in the spring semester of 2011. I then did research through the SPUR program with Dr. Jennifer Gubbels at Augustana on epithelial ovarian cancer beginning in the summer of 2011 and continued this through the fall semester. Now, after coming back from studying abroad, I will be doing research through the BRIN program with Dr. Jill Weimer at Sanford on neurology.
Q. Who's your favorite professor and why?
A. That's a tough one. I have many, but one in particular has been Dr. Sandra Looney. She is amazing – intelligent, kind, resourceful, and always up-front and real with you. I have enormous respect for her, and I've come to see her as a role model in how to conduct myself and approach life
Q. You're a member of the Civitas Honors program. What is the value of this academic endeavor?
A. Civitas offers a number of ways to honestly investigate diverse and interdisciplinary topics like the ecology of place, the psychology of language, and the ethics of righteous murder (the last is a bit of an oxymoron — the assassination of Hitler was the example explored). Civitas has been important in enriching my education at Augustana without losing ground on the requirements to graduate. For those who are able to join Civitas, I would strongly encourage it.
Q. What are your long term career goals?
A. I have been working toward and plan on attending medical school after completing my undergraduate degree at Augustana. I'm hoping that I can better understand what I wish to specialize in while in medical school (from job shadowing, likely surgery). I would like to use this career in medicine to focus on helping underserved communities both at home and abroad.
Q. What would you say to students considering Augustana?
A. Take the possibility of Augustana seriously. The reason for college, ultimately, is the education. Augustana, foremost, provides a top-notch education supported by well-qualified, personable, and supportive professors. Augustana's reputation lends itself well to each student's chances at employment and/or the graduate school of their choice. For me, Augustana's reputation among medical schools is, I believe, the best in South Dakota, and one of the best in the region. Then, there is the community: an active and impressive intramural program, many activities and events throughout each week, many clubs to join and interesting people to get to know. In many ways, the cliché that school is what you make of it is true. Augustana just happens to provide a much greater potential for you to enjoy school than others.