Boston Bound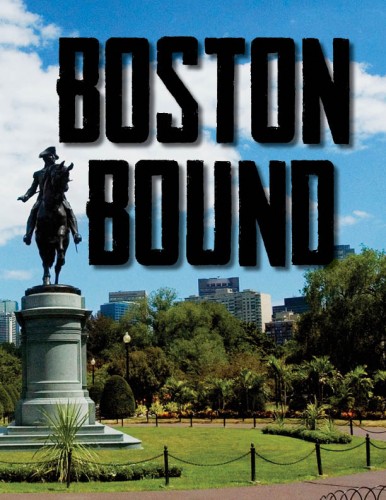 The area between Sioux Falls, S.D., and Boston, Mass., clocks in at just over 1,500 miles. Two recent Augustana College graduates will make the cross-country trek to continue their education in Beantown.
Finding His Wings
Meet Daniel Fry, a 2013 graduate who will attend MIT this fall.
Daniel Fry, 23, is a Pierre, S.D., native headed for the Massachussets Institute of Technology to study transportation. He majored economics and mathematics and minored in English and philosophy. He hopes one day to be an airline executive.
Q. Why did you choose to "Go Viking" at Augustana?
A. Augustana stood out to me as the right choice when I was a senior in high school for several reasons. I was impressed by the core values. I have visited many campuses, and occasionally I hear the statement, "and you can make some money, because that's what this is really all about," pop up in speeches. At Augie, it was so much more than that. I feel proud to be able to say my college is an institution with integrity, vocation, and excellence. The focus is on nurturing intense, enduring curiosity — that is wonderful. The professors at Augustana are superb. They push you to meet your full potential, and then a little farther. When I chose to study at Augie, I knew the class sizes were small, an important factor in my decision. I anticipated more attention from professors; I did not anticipate the genuine interest, compassion, and friendship that I received from them. I felt at home at Augie from the beginning, and that feeling has only intensified over the last four years.
Q. How did you choose your major?

A. I would like to say that I had a sophisticated plan and method for arriving at my majors and minors. I did not. I began with an economics and English double major but took quite a number of classes outside of those fields simply because they sounded interesting. That's one of the perks of the liberal arts. I knew that I was interested in commercial aviation and that economics would be useful for that field, so I determined early on to focus on economics. I took calculus II out of interest and just kept taking math courses thereafter. Studying English and philosophy have been pure joy. Honing my writing and reading skills is an important task. Philosophy holds few enough answers but some of the most tantalizing questions.
Q. How did the liberal arts curriculum at Augustana influence you?
A. I believe it was Dr. Dave O'Hara (Philosophy) who told me that a liberal arts education is an education for a free person. It is not an education focused on teaching you skills for accomplishing the commands of others. It is an education designed to help you find your way to a worthy, dignified life. The liberal arts curriculum clearly helped me in accomplishing my range of majors and minors, but it also freed me to take religion classes, an archeology course, karate, social dance, classics courses, and a bit of history. The liberal arts curriculum meant that the only constraint placed on my curiosity was available time.
Q. Favorite Augustana memory?
A. Freshman year, I had the crazy idea of hooking my flight simulator up to a series of borrowed projectors in the dayroom of Bergsaker. My friends, being spectacular, went along with it and we arrayed some fifty chairs in the shape of a commercial jet and simulated flights to Cancun and Hong Kong, complete with onboard catering and in-flight movies.
Q. What are you most looking forward to about living in Boston?
A. I'm most looking forward to enjoying the culture and atmosphere of the city. The ocean is right next door. The city has glass skyscrapers adjacent to cobblestone streets and historic buildings. The history in Boston is tremendous, as is the food. And, I am excited to join a challenging intellectual community, with over 50 colleges and universities in the metro area.
Q. What do you hope to do with your advanced degree?
A. My immediate goal is to achieve a Master of Science in Transportation. After that, I am considering adding a second master before pursuing a doctorate in transportation or transportation economics. My hope is that this will open the door to careers in the airline and other transportation industries, public transit, or perhaps academia.
Q. How have your personal interests influenced your career path?
A. Since I was a toddler, I can remember loving airliners. Not just airplanes — specifically airliners. According to my mother, there was never a time when I didn't love airliners, being perhaps one of the few infants who didn't cry while flying. I vividly remember my dad carrying me around the Pierre airport's tarmac on his shoulders. I can honestly say that my career path is a direct continuation and pursuit of my childhood dream.
Q. Why did you decide to apply to and attend MIT?
A. My original intention was to pursue a doctorate in economics, but halfway through the fall semester of my senior year I realized I was not keen on the more theoretical, less applicable tendencies of contemporary mainstream economics. As such, I switched my grad school search to applied economics programs with transportation focuses in the department and transportation programs outside of economics proper. Dr. David Sorenson (Economics) sent me a link to MIT's Interdepartmental Program in Transportation and it stood out to me immediately as being exactly what I wanted, if I could make it into the program. They seek individuals, such as myself, with a passion for transportation and backgrounds in mathematics, economics, engineering, policy, etc. What really caught my eye, however, was the availability of a focus on airline transportation—my passion. I will not forget the two emails that inaugurated my time at MIT. First, I received the acceptance letter with an offer of a research assistantship. Second, I received an email from Prof. Peter Belobaba informing me that I was invited to work on his research team studying airline operations and revenue management techniques.
Q. What activities were you involved with at Augustana?
A. I had the pleasure of being part of the leadership of both the Philosophy Club and the Econ Club, as well as enjoying more than a few UBG events and Rendezvous Program presentations given by foreign exchange students (whose presence on campus is a tremendous asset and blessing for all of us). I was honored with the opportunity to read in weekday Chapel services and cantor for the Sunday night Masses. I will never forget the three wonderful years I had in the Augustana Choir with Dr. Johnson and Weston Noble and the four great years with the Augustana Percussion Ensemble with Dr. Pennington.
Q.What from your Augustana education will you take with you to MIT?
A. All of it. MIT is going to challenge me to the core next year, I am sure, but I feel prepared. I have not only become intellectually sharper in the last four years, I have also developed good friendships and progressed on the path towards maturity. I look forward to continuing.
Setting the Bar High
Meet Jesse Goodwin, a 2013 graduate who will attend Harvard Law this fall.
Q. Why did you choose to "Go Viking?"
A. I chose Augustana because I wanted to stay in the region for my undergraduate studies. Augustana was affordable and had an excellent reputation. Making the decision was a relatively easy process.
Q. Why did you choose Political Science/Government & International Affairs as your major?
A. I had a pretty good idea of what I wanted to study, having participated in forensics at Washington High School for four years. When I was accepted, Dr. Peter Schotten (Political Science, Government/International Affairs) met with me over the summer to talk about school, which furthered my interest in the major.
Q. How did the liberal arts at Augustana influence you?
A. The liberal arts education gave me much greater insight into the perspectives of other groups and individuals. This greater appreciation has made me much more deliberate in how I engage others, not just those I disagree with, but when treading in fields I may not know much about.
It has made me more thoughtful and conscious about interacting with people coming from different perspectives and backgrounds. On a regular basis, the liberal arts taught me to engage with such a variety of fields, in courses taught by experienced professors who would scrutinize and challenge me.
The way you think about things in philosophy was tremendously useful for things like the LSAT, which features questions about arguments and has a whole section devoted to logic games.
Q.: Were you involved in any activities on campus?
A. I had the opportunity to be involved in the Philosophy Club, Government Club (COUPS) and the honor societies Phi Sigma Tau (Philosophy)and Pi Alpha Sigma (Government).

Q. Best Augustana memory?
A. It was midterms during the fall semester of my sophomore year. I had a challenging semester, and that was a particularly brutal time. Yet for whatever reason, I fondly remember that whole week before leaving for Thanksgiving break. I didn't get a ton of sleep, it was rough, but I'm oddly nostalgic of the late nights spent studying and eating dinner at the Commons with my friends.
Q. Favorite class, and why?
A. Constitutional Law: Civil Liberties! I learned about some fascinating (and sometimes just bizarre) court cases the Supreme Court has dealt with, and they stimulated some interesting class debates. We didn't just study the facts and why the Supreme Court ruled the way it did, we had really extensive discussions regarding what we thought about the rulings. We had to justify our opinion with what legal knowledge we had acquired up until that point in the class, making arguments not on the basis of what we thought a good policy might be, but what the law said. Having taken this class and other constitutional law courses, I feel much better prepared for law school.
Q. Why did you decide to apply to Harvard Law?
A. One of the benefits of a place like Harvard is that it allows for national mobility, enabling you to practice anywhere. It's incredibly tough to get a federal clerkship, and going to a school like Harvard helps to facilitate that. Additionally, while many of the top schools are extraordinarily expensive, Harvard has a really generous loan repayment assistance program, and its financial aid is entirely need-based, so it does a lot to ensure flexibility in an otherwise rough job market.
Q: Do you think your experiences at Augustana helped you in applying to Harvard?
A: It really did. Augustana has a really good reputation, and it enshrines the Midwestern work ethic that I think schools like Harvard really appreciate.  The professors here play a big part in that, and I don't just mean with respect to things like letters of recommendation (although I'm certain those helped tremendously, especially since the professors get to know you so well, being a smaller school). The professors are the reason Augustana has the reputation it has. Additionally, Augie had a number of extracurricular opportunities that showed I had a strong academic interest, like Phi Sigma Tau.
Q: Describe how you became interested in studying law and how you ended up choosing Harvard for law school.
A: Classes such as Constitutional Law really spurred my interest in attending law school. Many of the government courses I took dealt with fascinating issues that I wanted to pursue after Augustana, and again, Harvard seemed like a great place to be.
Q: What are your future plans after graduate school?
A: I'd be really interested in obtaining a federal clerkship. It's an extremely competitive process, and I'd definitely be willing to practice law in other ways, but if I were to set a goal, that'd be it.
Q: Do you have any advice for future students who are interested in graduate school?
A: Be sure to stay in contact with your adviser, because they are critical in helping you apply to graduate school. Additionally, be sure to do research on the schools you want to attend well before applying. I started preparing for the LSAT — the SAT/ACT for law school — at the beginning of my junior year. I'm glad I knew what Harvard wanted so far in advance, given the work necessary to achieve the score required to attend.
Also: Learn to appreciate sleep.