Alice Kuil King '91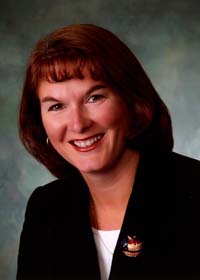 Occupation: English teacher at Campbell County High School (Gillette, WY) and was named the 2009 Teacher of the Year for Campbell County School District and the State of Wyoming.
What impact has Augustana played in your career?
Augustana was the perfect place for me to discover the path to my future career. The liberal arts curriculum allowed me to feel like a more well-rounded individual and educator. During my path through Augustana's education department I received pivotal experiences that solidified my decision to become a teacher. Having two separate assignments as a student teacher, challenged me and gave me a real look at the expectations of both a large and small school. Being able to participate in all of the wonderful activities contributed to the experience as well. As Viking Days co-chair, I learned so many skills that have become invaluable to me as a teacher, coach, wife, and mother.

What does Augustana mean to you?
I feel a sense of tremendous pride when I speak of my time at Augustana or tell my students that I am an Augustana alumni. I look back fondly at my time there and appreciate everything the faculty did to prepare me for my career.