In Our Spotlight on Augustana
We keep you updated on how Augustana University continues to impact the world.
Senior Director of Alumni Engagement Joel Gackle recently spoke with Dr. Jaciel Keltgen, associate professor at Augustana, about the recent news that AU is adding a Master of Business Administration (MBA) degree to its graduate education portfolio.
Can you share your Augie story?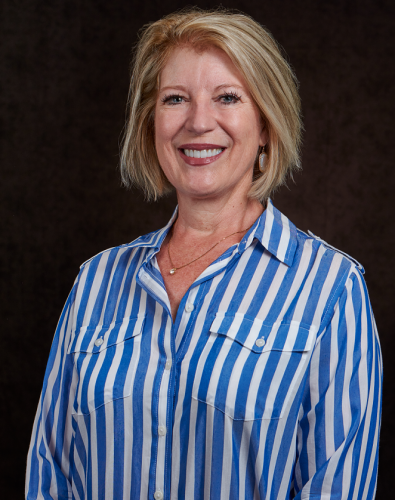 I joined Augustana in 1997 as an adjunct faculty member, and was hired full-time the following year. It was tough following Dr. Les Carson and his incredible legacy! I was running my own marketing firm at the time, but the initial draw was to travel less and be more available to my own children. The long-term draw for me was working with students inside and outside of the classroom, and devising learning experiences to stretch them as business problem solvers while still in college. I love the freedom AU affords me to be part of so many communities. Students are at such a critical stage in their development while in college, and it's thrilling to still be part of their lives 20 years later when their children are looking for the right university experience. I love teaching Principles of Marketing, Promotions, Personal Selling, Business Writing and Healthcare Marketing! On the first day of my first marketing class, one young man sitting in the first row blurted out, "Didn't I see you dancing last night at Borrowed Bucks Roadhouse?" I laughed out loud and realized that I was in for the adventure of my life!
Why the MBA now?
An MBA has been discussed for my entire 21-year tenure. Market conditions are finally right, according to three years of feasibility research, and AU has the growth momentum as well as a distinctive product to offer our students and their future employers. It was an honor to be asked to develop the MBA curriculum and shepherd it through the approval process.
What gets you most excited about launching the MBA?
Students' excitement for a program designed just for them is palpable. It's also been the perfect real-life learning example for marketing students who can see research, strategy, product development, pricing, marketing and other business principles in action at their very own organization.
How will the Augustana MBA be unique from competitors — both locally and online?
The Leadership Academy is the signature element or unique selling proposition of our program. The Academy serves as the link between MBA student Fellows and Sioux Falls business community Mentors. Fellows will be matched with Mentors working in four broad industry segments — healthcare management, finance/technology/entrepreneurship, real estate and commercial development, and family and community services — as they work together to apply contemporary theories and conceptual issues in a consulting experience. AU develops engaged community leaders and it makes sense to rely upon the rich business expertise and willingness to give back that exists in our own community.
How will the degree impact current students wanting to attain an MBA?
Current AU students will enter the 4+1 program as juniors. During their 4th year they will take three courses (9 credits) and complete the remaining 30 credits in the 5th year. The beauty is, students graduate with both a BA and MBA after the 5th year and, because they are full-time students, continue to have all the benefits of scholarships and financial aid. Our advisors, registrar, and financial aid experts are accustomed to working with students who are completing two degrees in five years, and make it a smooth and achievable process.
How will Augustana maintain our reputation for excellence in the MBA?
The scrutiny of the proposed courses, majors and master's programs has been rigorous. None of us wants to sully AU's reputation or tarnish the pride alumni feel. We made every effort to follow the Academy of Management's disciplinary areas, yet we actively considered rigor, relevance and best practices.
Were you able to engage alumni in the MBA discussion?
Our investigatory process began back in 2016 with a feasibility study. We collected input from current students, alumni, young professionals working in Sioux Falls, and employers in an effort to understand how Augustana University could contribute more to workforce needs and supply gifted servant leaders to communities. This discernment process was educational; our department used the data to develop a strategic plan. A few of the components of that plan included recruiting a business advisory board, introducing new majors within the department (Finance, Management and Marketing), and intensifying efforts to build upon our strengths with an MBA. Last January I reached out to more than 7,000 alumni and asked for their input. Their overwhelming response was that a hybrid program with a leadership focus would best meet their family, career and financial goals. It was an amazingly generous outpouring of encouragement, advice, and requests to expand AU's academic reputation.
How can alumni get involved?
Our alumni already understand and share AU's values. Alumni are welcome to pursue their MBA here, serve as a mentor in the Leadership Academy and encourage their friends, family, colleagues and employees to consider boosting their employability by earning an MBA from AU.
When will the MBA launch?
The 4+1 program will launch next fall (2020) with a course in advanced management information systems. The two-year program will launch in the summer of 2021 with a course in ethical leadership. The curriculum is the same — 39 credits — but delivered in a different order.
How can alumni discover more about the program?
We've scheduled informational sessions on campus Thursday, Feb. 6 (10 a.m. MC 201), and Thursday, April 2 (7 p.m. at TBD). These are times when folks can get more details about financial aid, timeframes, admission requirements, etc. They can also request more information from me at jaciel.keltgen@augie.edu or via our website at www.augie.edu/mba.