Augustana Alumni and Friends: Scenic and Historic Norway
TOUR A:  Departs August 4, returns August 17, 2020. 
Tour B:  Departs August 17, returns August 30, 2020
Note:  As of Nov 7, 2019, a limited number of spots are now open for either Tour A or Tour B.
Norway. Some at Augustana call it "the Motherland," and some call it "home." All of us know Norway as the ancestral home of Augustana, and as a country known mostly for its natural beauty, fjords, mountains, the Northern Lights and Midnight Sun. Whether we can claim Norwegian blood or not, alumni and friends of AU are Norwegian at heart, and we celebrate those roots every chance we have. This celebration continues in August of 2020 as a group of Augustana University Alumni and Friends begin a voyage "home" to explore our roots, celebrate heritage, and build new bonds with a country and people we have come to love.
We'll celebrate the old as well as the new Norway as we visit major cities and smaller villages and take in the sights and sounds of Norway — a ruggedly beautiful country of mountains, fjords and glaciers. We'll experience delightfully long summer days, unspoiled fishing villages and rich historic sites that include Viking ships and medieval stave churches.
Norway's varied geography surprises many visitors who imagine the country as a frozen monolith. On the contrary, the country includes rolling farmlands, enchanted forests and sunny beaches as well as the dramatic Western Fjords. North of the Arctic Circle, the population thins, the horizons grow wider and the temperature dips.  Don't worry though … we'll save the Arctic Circle, Svalbard and polar bears for another trip!
Description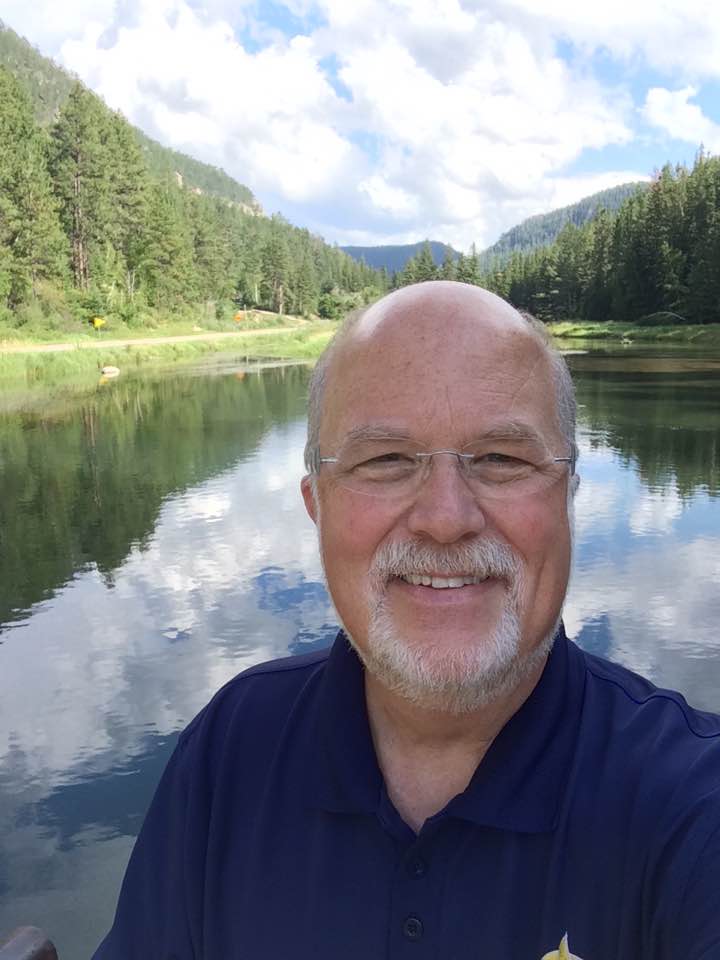 Our 2020 Augustana Alumni and Friends Tour will be a scenic and historic journey encompassing Oslo, Lillehammer, Trondheim, Voss, Bergen, the Atlantic Ocean Road and Norway's awesome fjords. The tour will be led by Brad Heegel '76, a veteran Augustana staff member of 42 years who has led hundreds of students and alumni around the world through Interim experiences, choir and band tours and his contract work with the USGS EROS Center. The tour is managed by Brekke Tours of Grand Forks, North Dakota, Brekke Tours was selected because of their acknowledged expertise in strengthening cultural, as well as ethnic ties between North America and Scandinavia/Europe by creating meaningful travel experiences. Since 1956, their dedicated and knowledgeable staff has worked to achieve this goal by assisting clients with making connections to ancestral ties, offering an array of enriching experiences while traveling and providing the level of customer service our clients have come to expect.
Due to the overwhelming response and interest in the tour, a SECOND TOUR was added.  In the itinerary listed below, TOUR A dates are listed followed by TOUR B dates.

Tuesday, August 4/Monday, August 17  Mpls/St. Paul to Oslo   

We depart the USA on our transatlantic flight on Icelandair with a quick stop in Reykjavik.  Alternate dates of travel either to or from can be arranged upon request.
Wednesday, August 5/Tuesday, August 18   Oslo
After arriving at Gardermoen Airport, we will transfer to our hotel in the city center.  The balance of our day will be free to wander the parks, or head up Karl Johans Gate - the main walking street of Oslo. It stretches from Oslo Central Station  on one side, to the Royal Palace (Slottet) on the other. We'll have dinner together tonight and overnight at the classic Grand Hotel, right in the heart of Oslo.  (BTW, the Grand is the sight of the Nobel Peace Prize Banquet and Reception and hosts the annual prize winner.)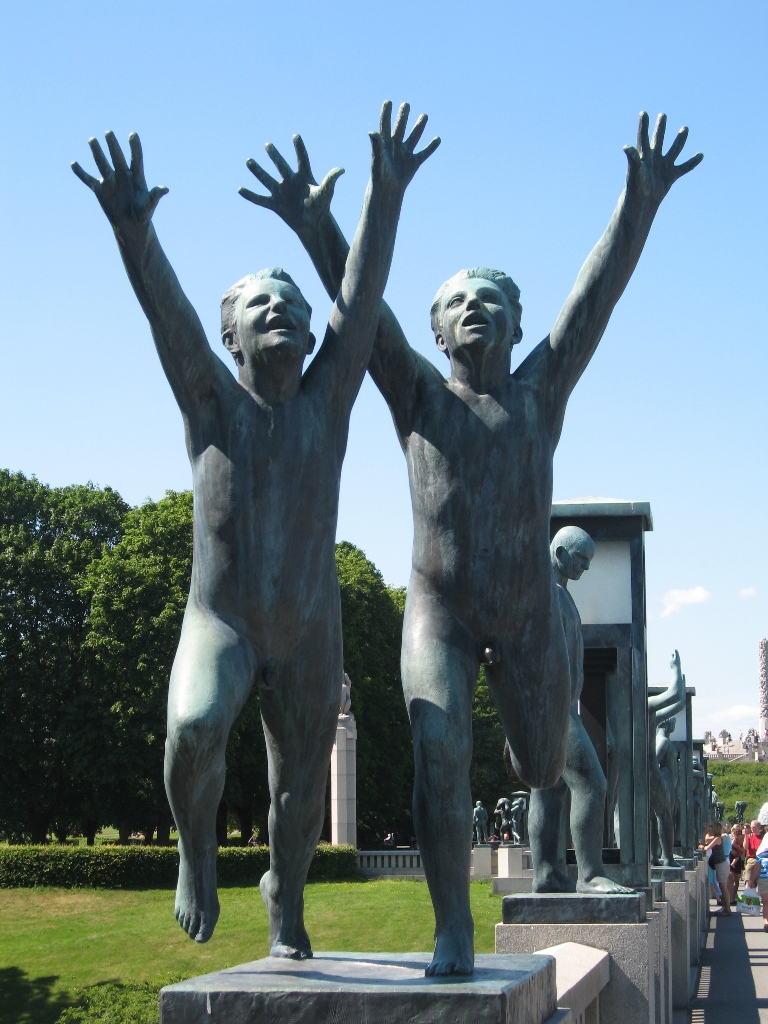 Thursday, August 6/Wednesday, August 19   Oslo
A wonderful tour of Oslo today includes the Vigeland Sculpture Park and the Viking Ship Museum.  Our afternoon and evening are free for shopping and independent exploration and dinner is on our own - or with a group of new friends to talk about the "good old days' at AU!
Friday, August 7/Thursday, August 20   Oslo-Eidsvoll-Hamar - Lillehammer
We proceed to Hamar and the unique Glass Cathedral - an architectural and technological masterpiece created to protect cathedral ruins from the Middle Ages.  We'll then tour Maihaugen, one of northern Europe's largest open-air museums and experience life in the "old days."  Next, we visit the site of the 1994 Winter Olympics at Lillehammer before departing for dinner and overnight at Gudbrandsdgard Hotel in the heart of Norway's popular ski country.
Saturday, August 8/Friday, August 21   Lillehammer area - Røros
We drive the Gudbrandsdal Valley and we have dinner and overnight at the Røros Hotel in Røros, an old wooden mining town founded in 1644 and listed on UNESCO'S "World Heritage" list for its well-preserved buildings.
Sunday, August 9/Saturday, August 22  Røros - Selbu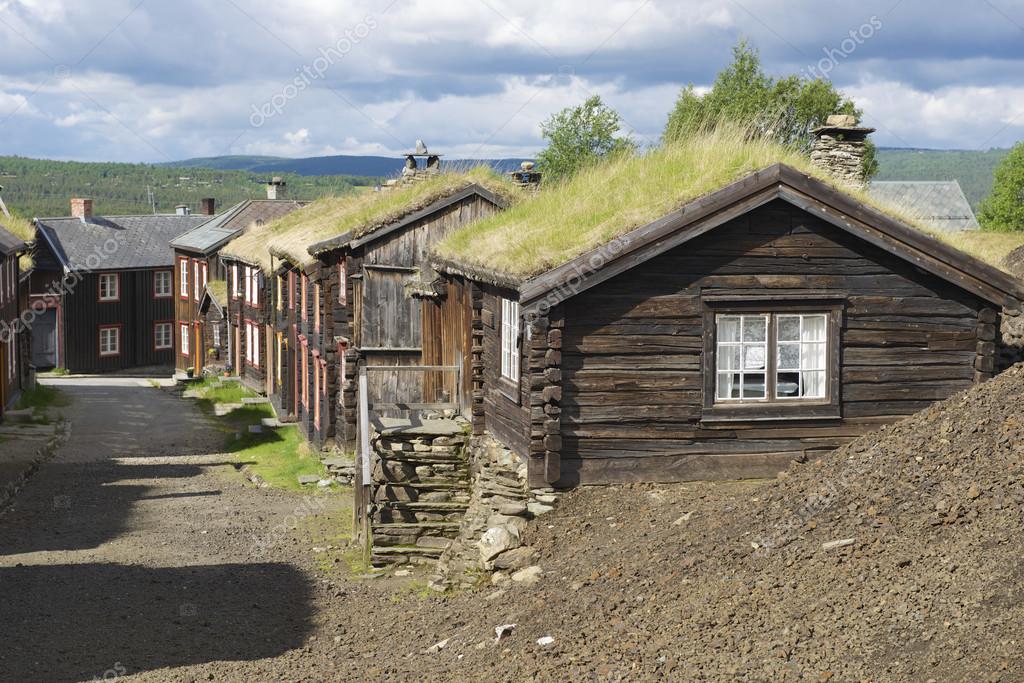 Selbu is one of the communities in the Norway with the largest emigration to America, in relation to population. Selbu was central in the start-up of the emigration from Central-Norway. Granby Farm has, with its exhibition, preserved the history of Selbu and Norwegian emigration.  A fascinating visit for anyone with Norwegian roots!  Dinner an overnight at the Selbusjoen Hotel.
Monday, August 10/Sunday, August 23   Selbu-Stiklestad-Trondheim
St. Olav died in the battle of Stiklestad and this marked the acceptance of Christianity in Norway.  Today we'll learn about the life of the "real" Vikings as we explore the area.  We'll end up in Trondheim in time for dinner and overnight at the Scandic Nidelven Hotel.
Tuesday,  August 11/Monday, August 24  Trondheim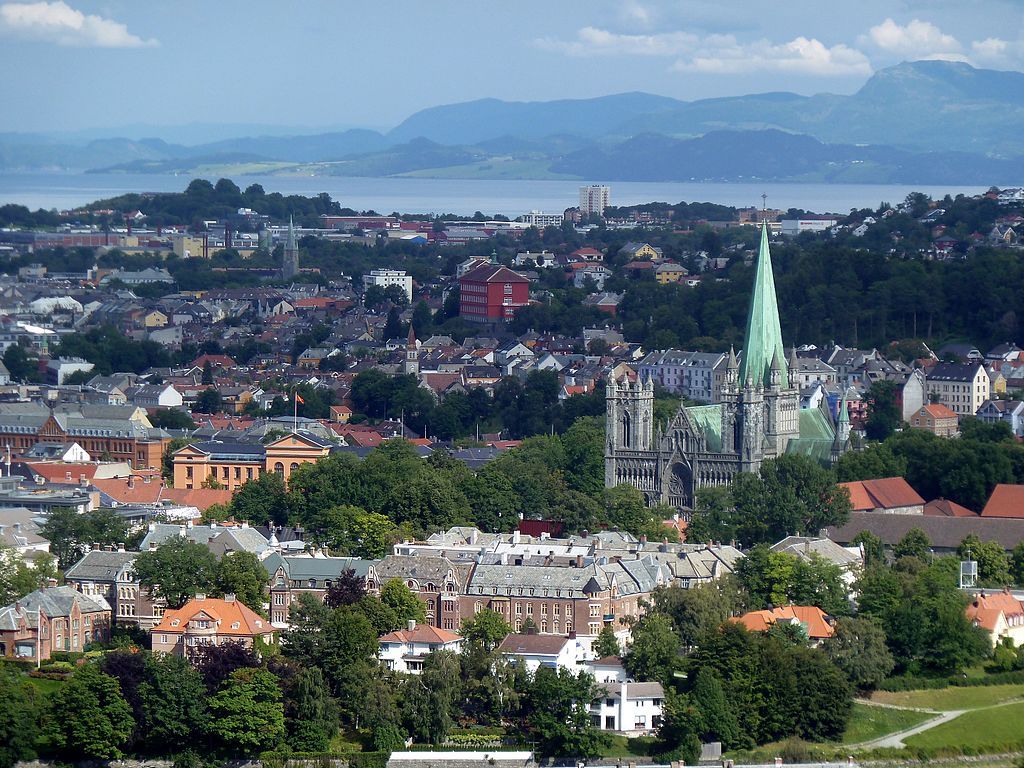 You're going to have a free afternoon and evening today but not until after we familiarize you with an overview tour of Trondheim and a visit to Nidaros Cathedral, the traditional location for the consecration of new Kings of Norway. The Cathedral is built over the burial site of King Olav II of Norway, (now St. Olaf) who became the patron saint of the nation.  (We will, just for the day, imagine his name is St. Augustana.  After all…..)
Wednesday, August 12/Tuesday, August 25   Trondheim - Molde
Today we drive the Atlantic Ocean Road with the vast and boundless ocean on one side and majestic snow-clad mountain peaks on the other.  We'll visit the fishing village of Bud and tour Ergan Kystfort, a defensive bunker built by the Germans during the occupation of Norway in WWII.  A fresh salmon lunch awaits us and we end the day we have dinner and overnight at the Scandic Seilet Hotel. in Molde, the "City of Roses."
Thursday, August 13/Wednesday, August 26    Molde - Geiranger - Loen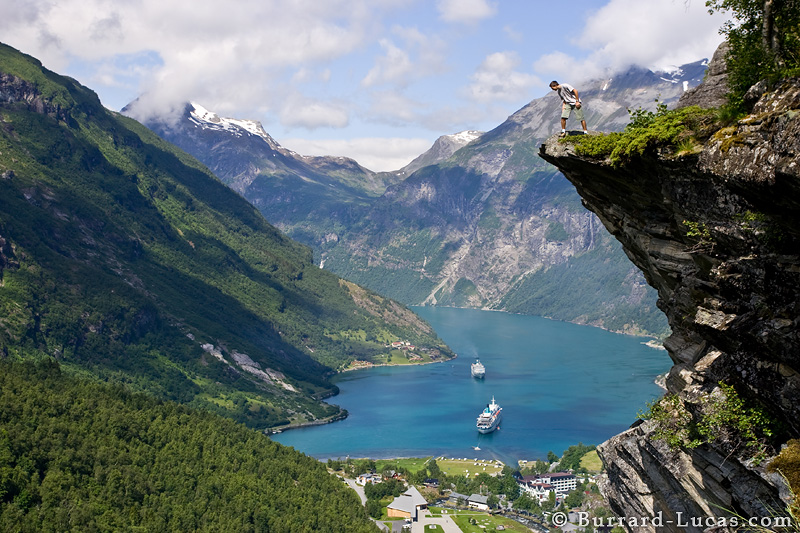 Are you ready to travel the "Golden Route" - to climb the breathtaking Troll's Path with its steep and narrow hairpin bends?  We get down again by descending the Eagle Road to the famous village of Geiranger. We cruise from there to Hellesylt and continue to Loen for dinner and overnight at the luxurious Hotel Alexandra.
Friday, August 14/Thursday, August 27   Loen - Flåm
We arise and visit the sparkling Briksdal Glacier, a famous glacier arm set attractively between roaring waterfalls and high peaks.  We'll then ferry across the Sognefjord from Mannheller to Fodnes and drive through the world's longest tunnel (15.22 miles) from Laerdal to Aurland.  Dinner that night will be in our hotel at the Fretheim Hotel in Flåm.
Saturday, August 15/Friday, August 28   Flåm - Bergen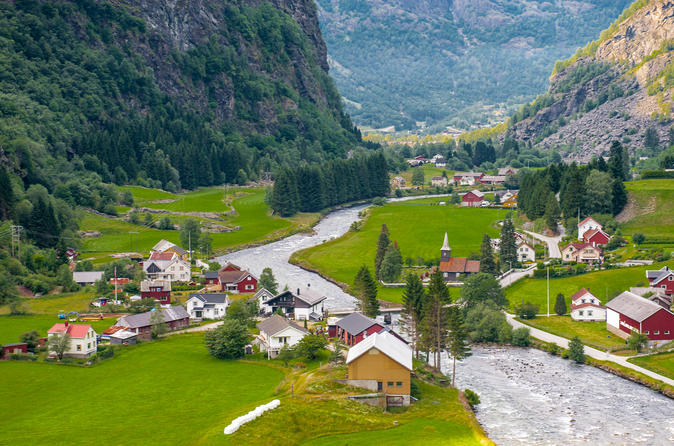 "All Aboard!"  We enjoy breathtaking views and the thundering sounds of waterfalls we ascend 2800 feet within 13 miles to the Myrdal station aboard the Flåm Railway.  Upon arrival in Bergen, we check in to the Opus Hotel, designed and owned by decendants of Norway's most esteemed composer, Edvard Greig.  This historic hotel, once a bank, is a stunning showcase in the middle of Bergen's city-centre.
Sunday, August 16/Saturday, August 29    Bergen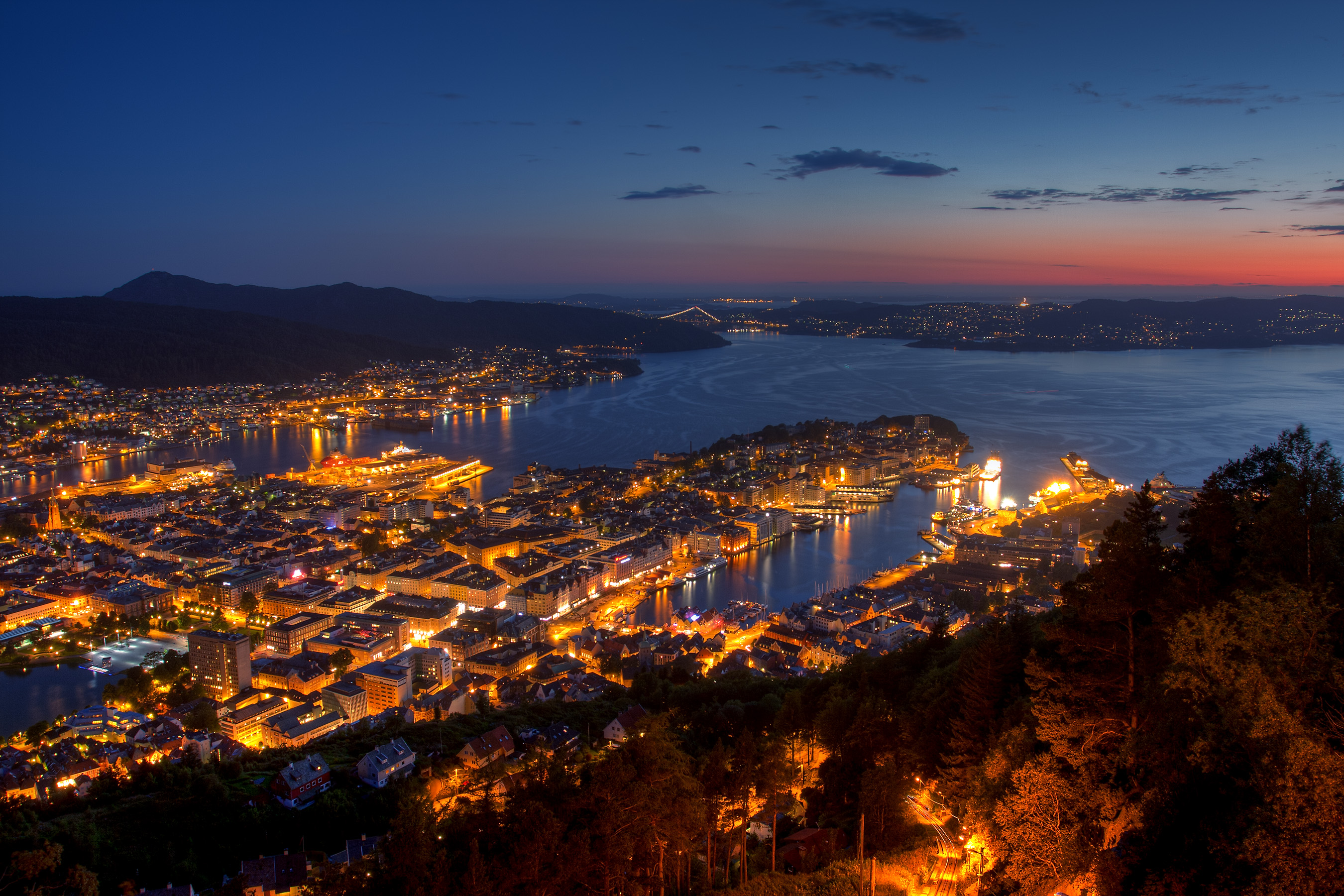 Morning sightseeing tour of Bergen includes a visit to Troldhaugen, the home of Norway's Edvard Grieg.  We conclude our tour with a guided walk through the historic Hanseatic Wharf.  Your afternoon and evening is free but be back in time for our "Farewell - Didn't we have Fun? Dinner."
Monday, August 17/Sunday, August 30    Bergen - MSP
All good things must come to an end, so today we load up and fly home via Flesland Airport Bergen to Minneapolis or your personal destination.
 
Round-trip air from Minneapolis to Oslo including taxes, fees & fuel surcharge
Twin occupancy rooms in first-class and select hotels with private bath. 
Breakfast daily plus eight dinners and two lunches.
First class touring coach, train and ferries per itinerary
City sightseeing in Oslo, Røros, Trondheim and Bergen
Excursion to the Briksdal Glacier
Entrance fees to all sites including Viking Ship Museum, Eidsvoll Manor House, Hamar Glass Cathedral, Ringebu Church, Grandyb Gar, Stiklesatad, Nidaros Cathedral, Ergan Kystfort and Troldhaugen.
Luggage handling at hotels for 1 suitcase per person
Services of a professional tour director for days 2 - 14 who, along with Brad, makes sure your needs are met and ensures that your vacation exceeds your expectations
Accommodations and meals:
Twin-occupancy at accommodations as indicated or similar with buffet breakfast daily and eight  dinners as indicated in the itinerary. Single supplement available.
NOTE: Participants with special needs may incur surcharges for additional services. Handicap accessibility varies significantly from country to country.
Costs and Payment schedule: 
Based on the 2019 similar itinerary, the total tour price is $5595 per person roundtrip from Minneapolis including government taxes and airline imposed surcharges.
Single Supplement for this tour is:  $1235.  
Land only arrangements can be made through Brekke Tours.  You will simply need to indicate your proposed plans on the registration form and they will contact you.
Questions?  How do I register?
Please email or call Brad Heegel in the Development Office with any questions or to share your interest in learning more about this unique tour experience.  . 
Brad Heegel, '76
Tour Host
605.274.5508
heegel@augie.edu