The Art Technologist
Kiel Mutschelknaus, class of 2007, uses technology to give art a new voice.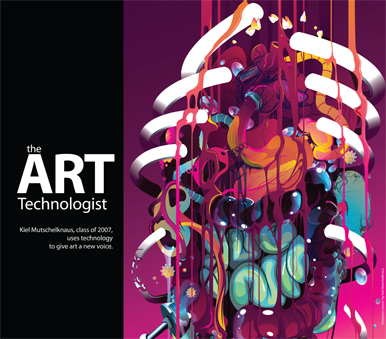 Inside the last drawing class Carl Grupp taught in the "old barracks," the legendary, shaggy-haired art professor saw a roomful of young, hopeful students, including a fresh-faced kid with brown hair and a long last name who had dreams of becoming an architect.
Kiel Mutschelknaus grew up in Brandon, S.D. As a kid, he played with LEGOS but never considered himself much of an artist. He was good at math and liked the idea of designing buildings.
Fifty minutes a few times a week with Grupp, the charismatic professor emeritus of Art who served Augustana from 1964 through 2004, changed that pretty quickly.
"He got me thinking about design. I realized I could develop this talent. He really got me started on this kick," Mutschelknaus said.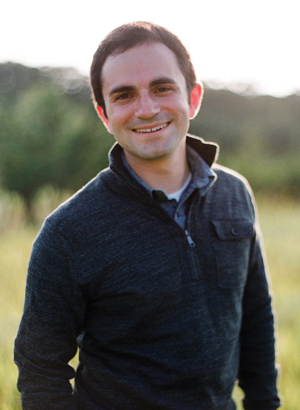 By "kick," Mutschelknaus is referring to his rising career as a nationally known graphic artist. After studying under Grupp and other members of the art department, including Tom Shields, Steve Thomas and Scott Parsons, Mutschelknaus graduated in 2007, launched his career, and quickly earned a reputation for creating art that combines drawing, graphic design and installation in a way that's both playful and edgy.
After working as a designer at Fresh Produce, a Sioux Falls marketing and advertising company, Mutschelknaus was accepted at the acclaimed Cranbrook Academy of Art, the country's top-ranked, graduate-only program in architecture, design and fine art located near Detroit, Mich.
Only 75 students are invited to Cranbrook each year to study and live at the Saarinen-designed campus that features private studios, workshops, an art museum and 300 acres of nature.
At Cranbrook, he says, he discovered how to push his own boundaries as an artist.
Mutschelknaus calls himself a "digitally driven" artist, which means the bulk of his work is created using a computer. He draws directly on a graphics tablet, then uses various programs to manipulate the images to create the desired effect.
"The drawing aspect is really key. I'm just drawing directly into the computer. In a less permanent way, it's like drawing on paper. It is drawing using the traditional practice, but it's digital," he explains.
In addition to his tablet, he also carries a sketchbook with him and tries to dedicate at least 30 minutes each day to sketching on paper.
His for-contract work includes everything from company and rock band logos to posters promoting festivals and social movements.
His own work is more abstract and spans mediums, from vibrantly colored, motion-like graphic design, to chipboard cutouts, to the "Super Function Lamp," a project he worked on with his brother that features a lamp programmed with 28 switches, all of which must be "switched" in order to turn it on or off.
His inspiration, he says, comes from each project he works on.
"I find myself inspired by the work I do, by the elements in the piece I've just done. There's a lot of self-investigation that takes place. Whatever I'm working on always sprouts more ideas," he said. "I think inspiration is constantly evolving. I'm always being inspired by artists around me, by my friends and their ways of thinking."
What he hopes his work inspires in others, is another story.
"As far as some of the more art-driven pieces I've done, I think it becomes more interesting to know the viewer will have their own interpretation. Artwork can be so much more rich when it's open to interpretations by the viewer. I have some ideas that I try to put into each piece but, at the end of the day, it's more about creating this rich discussion and collaboration."
That "collaboration" is why Mutschelknaus finds it hard to pin a label to himself as an artist.
"In reality, the art world and technology are becoming so much more accessible. The labels between a sculptor and a graphic designer and furniture designer are starting to disappear a bit more. Cranbrook is an advocate of the fact that designers aren't just designers … they're artists," he said.
Dr. Lindsay Twa, assistant professor of art and director of Augustana's Eide/Dalrymple Gallery, remembers Mutschelknaus well and has followed his career closely.
"I actually 'met' Kiel Mutschelknaus well before he enrolled in my Art History Seminar the spring of his senior year. I had been viewing his anonymous 'rogue' community artworks around campus since the start of the school year. These included life-size self-portraits in cellophane and packing tape that would randomly appear around campus — seated in a hallway reading Nietzsche, positioned on the roof-top of a classroom building, or created in ice and slowly melting away in front of the student center. I was struck by the quality of the work and its dedication to bringing artwork to the College community. This was all done anonymously, and outside the bounds of the already significant workload of his academic and studio assignments. (That he was the creator of these works was only revealed the year after he had graduated by co-collaborator Kat Burdine, class of 2008.) He has a relentless dedication, both to making art, and for facilitating creative dialogue in the communities where he finds himself," Twa said. "I have been very impressed with each new body of work that he has produced — not just for his highly skilled technique, but also for the depth of ideas that he communicates."
Post-Cranbrook, Mutschelknaus has served as an adjunct art instructor in Michigan, an experience he says he enjoyed.
"I love interacting with students. I hopefully get to inspire them and they inspire me."
He recently moved with his wife, Erica (Jorde, class of 2008), to Virginia where he's planning to pursue more teacher-scholar opportunities.
As he looks back at his time on campus, he never underestimates the effect the faculty here had on him, particularily Grupp.
"He was intense, but he inspired me. I feel really lucky to have been part of the last class he taught. The great thing about Augie is that we learned graphic design with the idea that we weren't just learning these programs to become software technicians or logo creators. We were using these digital tools with the skills and ideas we'd honed through painting and drawing," he said.
"For me, I love using technology as a voice for art."