Meet the Band Festival Clinicians
---
The Augustana Band Festival, Nov.9 - 10, features the following professionals for two full days of ensemble and clinic work (Additional personnel to be added)
Meet our 2018 Clinicians
Dr. Devin Otto — University of Wisconsin - Oshkosh
Dr. Christopher Unger — Augustana University
Dr. Peter Folliard — Augustana University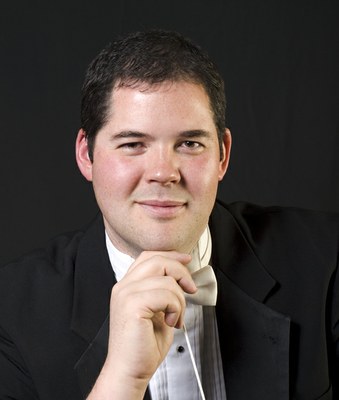 Dr. Devin Otto serves Director of Bands and Instructor of Tuba/Euphonium at the University of Wisconsin Oshkosh.  He comes to Wisconsin after holding faculty positions at Minot State University, Eastern Washington University, and the University of Idaho. Committed to music education at all levels, Dr. Otto is in demand as a guest conductor, clinician, adjudicator, and presenter in a variety of musical genres.  His ongoing research in the use of improvisational theater games for conducting study resulted in well-received presentations at the 2013 National Conference of the College Band Directors National Association and 2015 North Dakota Music Education Association State Conference, and in late 2016 he will teach a 2-day conducting workshop on behalf of the Wisconsin School Music Association.  Other recent engagements as a clinician and presenter include the 2016 conferences of the International Tuba Euphonium Conference in Knoxville, Tennessee and the International Society for Music Education in Glasgow, Scotland.
As a low brass player, Otto's performance credits include the Oshkosh Symphony Orchestra, Spokane Symphony Orchestra, Idaho/Washington Symphony, Minot Symphony Orchestra, Mid-Columbia Symphony Orchestra, International Brass Quintet, and Bob Curnow Big Band.  He can be heard on the albums The Music of Pat Metheney and Lyle Mays, vol. 2 with the Bob Curnow Big Band, and Of Love and Life with the University of Colorado Wind Symphony.  In the marching genre, Otto was a member of two D.C.I. Drum & Bugle Corps, including the 1999 World Champion Blue Devils.
Dr. Otto holds the Doctor of Musical Arts in Wind Conducting and Literature degree from the University of Colorado, Boulder, where he was a student of Allan McMurray.  He also holds Bachelors and Masters degrees in music education from the University of Idaho and Eastern Washington University, and he has attended conducting symposiums under many of today's outstanding wind conductors including H. Robert Reynolds, Craig Kirchhoff, Thomas Lee, Richard Floyd, Gary Hill, Mallory Thompson, and Rodney Winther.
Dr. Christopher Unger — Augustana University
Dr. Christopher Unger is the 5th conductor of the Augustana Band. He began his tenure at the University in September 2015.
Unger served as the Interim Director of Bands at the University of British Columbia. Prior to that appointment, he served as the Assistant Conductor of both the Eastman Wind Orchestra and the Eastman Wind Ensemble. At Eastman, Unger was honoured with the Frederick Fennell Fellowship for Advanced Conducting Study, the Evan Whallon Conducting Award, and the prestigious Walter Hagen Conducting Prize. His role at Eastman provided him with the opportunity to act as a producer on the Eastman Wind Ensemble's 2013 release on Avie Records titled Stravinsky-Octet/L'Histoire du Soldat. In addition to conducting the wind ensembles, Unger worked with the Brass Guild, the Trumpet Ensemble, and the Graduate Chamber Orchestra. He also was chosen to conduct a featured performance of Imis, by Massimo Luaricella, the 2011/2012 OSSIA International Composition Competition winner, with the Ossia New Music Ensemble. 
Prior to his graduate studies, Unger was the Instrumental Music Teacher at G.P. Vanier Secondary School in Courtenay, British Columbia. Under his baton, the instrumental ensembles at Vanier participated in regional and national festivals and received national recognition for their performances at Musicfest Canada. In his final year at Vanier, Unger was nominated for the CARAS/MUSICAN teacher of the year award. 
Unger won the American Prize in Conducting in the Wind Ensemble Division in 2013. The American Prize is a series of new, non-profit national competitions in the performing arts, unique in scope and structure, providing awards, professional adjudication, and regional, national, and international recognition. Each year, The American Prize rewards the best recorded performances by individual artists and ensembles in the United States. 
Unger's principal conducting teachers were Dr. Mark Scatterday and Dr. Colleen Richardson. He has attended a number of influential conducting symposiums where he worked with master wind conductors such as Donald Hunsberger, Frank Battisti, Charles Peltz, Michael Haithcock, Allan McMurray, Craig Kirchhoff, Michael Votta, Gary Hill, and Rodney Winther. He maintains professional affiliations with the College Band Directors National Association, the World Association of Symphonic Bands and Ensembles, and the Conductor's Guild. 
Unger received his D.M.A in conducting from the Eastman School of Music in 2013. Additionally, he holds degrees from the University of Western Ontario and the University of British Columbia.
---
Dr. Peter Folliard — Augustana University
Dr. Peter Folliard is the conductor of the Augustana Orchestra. 
Born and raised in northern New Jersey, Folliard holds undergraduate degrees in music education and instrumental performance from the University of North Texas; master's degrees in instrumental performance and conducting from the Peabody Institute of Johns Hopkins University; and a doctor of musical arts degree in orchestral conducting from the Eastman School of Music.
Folliard's first conducting position was with the United States Air Force Bands program. Upon earning his commission from Officer Training School, Folliard was assigned to work with the United States Air Force Band, the Air Force's premier musical unit in Washington, D.C.
There, Folliard was appointed conductor of the Air Force String Orchestra and conductor of The Singing Sergeants. Additionally, Folliard served as the associate conductor for the Concert Band and Ceremonial Brass, and was producer of the organization's recording projects.
Following his service in the Air Force, Folliard was offered a teaching assistantship accompanied with a full scholarship to study at the Eastman School of Music with master pedagogue Neil Varon. There, he also held the position of Eastman conducting fellow with the Rochester Philharmonic.
Most recently, he served at the Crane School of Music at the State University of New York at Potsdam, where he served as interim director of orchestras.
Upon his appointment in June 2017, Augustana officials called Folliard a great addition to the campus community.
"While his skills as a conductor, producer and leader are exceptional, Peter's outstanding ability to work with people is what makes him truly unique. He possesses the ability to adapt to his surroundings and communicates in a way that inspires the best from all those with whom he works," said Dr. Jerry Jorgensen, interim senior vice president for academic affairs. "He will no doubt be a  wonderful addition to the Augustana community as a dynamic educator, skilled clinician and passionate musician."
Throughout his career Folliard has been recognized as an outstanding leader, performer and educator. The University of North Texas selected Folliard as its "Outstanding Member" and "Bandsman of the Year." The military recognized Folliard for his "leadership, integrity, professionalism, team contribution and fellowship."  Eastman awarded him its prestigious Graduate Teaching Assistant Prize.
---
---