Introducing Dr. Paul Nesheim, Director of The Augustana Choir
Dr. Paul Nesheim is the associate professor of music and director of The Augustana Choir, the fifth in the Choir's 90-year history. He began his work with Augustana on August 1, 2012.
Dr. Nesheim most recently served as associate professor of music and director of choral activities at Minnesota State University Moorhead, where he conducted three choirs and taught choral conducting. He also served as artistic director of the Fargo-Moorhead Chamber Chorale and the conductor of the Senior Choir at the Lutheran Church of the Good Shepherd in Moorhead.
"Dr. Nesheim brings rich experience and accomplishment, but what really impressed the search committee was the way he worked with faculty colleagues and with students. Colleagues appreciated his creativity and commitment to collaborative work. Students were impressed with his passionate energy, his commitment to precision, and his deep understanding of the mission of The Augustana Choir to bring a "sermon in song" to every audience member. I think we have found a gem," said Dr. Richard Swanson, chair of the Humanities Division and professor of Religion/ Philosophy/Classics.
Dr. Nesheim has served on the faculties of Concordia College in Moorhead and Northern State University in Aberdeen, South Dakota. He has held positions conducting high school, church, and community choirs in Minnesota, California, Iowa, Wisconsin, and Arizona.
He holds a Bachelor of Arts degree in music education from St. Olaf College, a Master of Music degree in choral music from Arizona State University, and a Doctor of Musical Arts degree in conducting from the University of Arizona. He has studied conducting with Maurice Skones, Douglas McEwen, Kenneth Jennings and Miles Johnson. Nesheim is an active member of the American Choral Directors Association, and is a frequent clinician and guest conductor for high school festivals and honor choirs.
Dr. Nesheim is a published composer and the author of "Building Beautiful Voices," a book of vocalization methods and materials published by the Roger Dean Publishing Company.
Previous conductors of The Augustana Choir

Dr. Weston Noble, professor emeritus of music at Luther College, Decorah, Iowa, served The Augustana Choir as guest conductor during the 2011-2012 school year.
Noble had a 57-year tenure as a conductor and teacher at Luther College in Decorah, Iowa, where he received national and international acclaim as conductor of the Luther College Nordic Choir from 1948 to 2005, the Luther College Concert Band from 1948 to 1973, and as guest director for over 900 All-State bands, orchestras, choirs, and festivals across four continents.
Noble's time with the Choir was as a result of the Choir's fourth director, Dr. James Johnson, leaving the college to become the Principal Conductor of Choral and Instrumental Ensembles at First Lutheran Church in Sioux Falls.
Noble is an internationally acclaimed conductor as well as a music educator. His distinguished career includes conducting more than 900 music festivals throughout the United States, Australia, Canada, Europe, Russia, Asia, and South America. The venues include Lincoln Center and Carnegie Hall in New York, the Kennedy Center in Washington, D.C., the Los Angeles Music Center, Chicago Orchestra Hall, the Ordway Theater in St. Paul, Orchestra Hall in Minneapolis, and the Bolshoi, Kremlin and Tchaikovsky Halls in Moscow. He is the only director to have led all-state choruses, bands and orchestras in all fifty states.
In the spring of 2006, Noble conducted the Mormon Tabernacle Choir in a national radio broadcast. He also received the Distinguished Service Award from The Church of Jesus Christ of Latter-day Saints, making him the only non-Mormon to ever receive this award. In June 2006, he was once again the guest conductor at Guam's 3rd Annual Pacific Summer Music Festival. Most recently, he guest-conducted the JMU ACDA Choral Fest.
In December, 2010, at the age of 88 years old, Noble traveled to South Korea (for the first time), to conduct a concert of Handel's "Messiah" for the Camarata Music Company.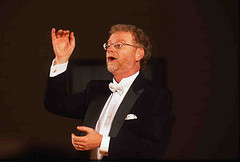 Dr. James R. Johnson began his tenure as the fourth conductor in the history of the Augustana Choir in the fall of 1992 and served until Fall 2011. He also served Augustana College as professor of music and director of choral activities, conducted the Chamber Choir, and taught in the areas of conducting, sacred music, choral methods and music history. Prior to this appointment, Dr. Johnson was the Head of Choral Music Education and a member of the graduate division at Boston University's School for the Arts. At Boston University he conducted the Boston University Chorus and taught graduate and undergraduate courses in conducting and aesthetic philosophy.
Choral ensembles under the direction of Dr. Johnson have appeared at national and international venues, and various MENC and ACDA conventions. His choirs have performed all across the United States and at sites from Carnegie Hall to the Cathedrals of Notre Dame in Paris, St. Peter's in Rome, St. Paul's in London, St. Stephen's in Vienna, St. Patrick's in Dublin, Nidaros in Trondheim, Chartres, and many others. Even congregations in Africa have heard the "sermon in song" of The Augustana Choir under his direction. The choir has also received auditioned invitations to perform at state functions in Italy, Germany, France, Austria, Ireland, England and Poland.
A native of Luverne, Minnesota, Dr. Johnson began his choral studies with Weston Noble at Luther College in Decorah, Iowa, where he received his degree with majors in vocal music and history and a designation of magna cum lauda. The University of Tennessee's Master of Music degree was granted Professor Johnson upon completion of studies in choral conducting with Donald Neuen. Professor Johnson also holds the Doctor of Philosophy degree from the University of Illinois where he studied aesthetic philosophy, choral and orchestral conducting, and music education.
Professor Johnson has frequently appeared as conductor of All-State, and regional choirs and in 2004 conducted the International Choral Festival in Muscat, Oman. He has been director of choral activities at high schools in Minnesota and Iowa, and at Northern State University prior to his appointment to the faculty of Boston University. He has taught subjects at the undergraduate and graduate levels as varied as applied voice; music history of the medieval, renaissance, baroque, rococo and modern periods; courses in choral conducting and methods, vocal pedagogy, and vocal and choral literature; vocal jazz; aesthetic philosophy; and all manner of choral ensembles. Guest conducting appearances for Professor Johnson have included state and regional festivals throughout the United States and he regularly presents clinics for teachers in the public schools and at MENC and ACDA conventions.