A Lie of the Mind
by Sam Shepard
September 21-24 at 7:30 pm, September 24-25 at 2:30 pm
Edith Mortenson Center Main Stage Theatre

Synopsis
Hailed as Sam Shepherd's richest and most penetrating play, A Lie of the Mind explores family dysfunction and the nature of love set against the backdrop of the gritty America West. Told in three acts, the story alternates between two families in the wake of a severe and life-altering incident of domestic abuse. The two stories collide in an isolated cabin in rural Montana, where the tensions that separate the families grow increasingly disturbing and dangerous.
This dark comedy is recommended for mature audiences.

Cast
Augustana Theatre Company's production of A Lie of the Mind features an ensemble cast that includes:
Casey Ring, a senior history and secondary education major from St. Paul, MN, as Jake.
Elizabeth Yackel-Juleen, a senior theatre major from Windom, MN, as Beth.
Glynnis Kunkel, a junior English education major from North Mankato, MN, as Lorraine.
Josh Thies, a junior theatre major from Sioux Falls, SD, as Frankie. Thies is also the sound designer.
Megan McDonald, a junior theatre and government major from Sioux Falls, SD, as Sally.
Nate Hults, a senior theatre major from Glencoe, MN, as Baylor.
Leah Hilsabeck, a senior English and theatre major from Okaboji, IA, as Meg.
Evan Livermore, a junior government major from Pierre, SD, as Mike.

Production Details
The production, directed by Jayna Fitzsimmons, will feature scenic and lighting designs by Rj Fitzsimmons, costume and make-up designs by Jennifer Shouse-Klassen, and an original score written and performed by local musician, Xavier Pastrano.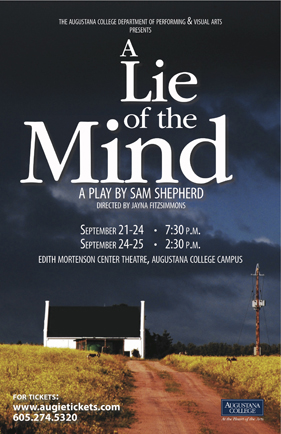 A Lie of the Mind Production Poster