Christmas at Augustana

Merry Christmas and happy holidays from all of us here at Augustana University! We hope you've all had a wonderful 2020
---
Christmas Vespers
Event Details
Date: December 19, 2020
Times: 7:30 p.m.
Location: YouTube
Support Vespers by clicking here!

The Augustana School of Music presents Christmas Vespers 2020, a celebration of the birth of Christ featuring Augustana's four choirs, orchestra and band. The School of Music has embraced the power of technology to bring this beloved tradition to you virtually through online streaming and television broadcasts. Read more about the making of Vespers and find out how you can support this incredible initiative by clicking here.
We hope you will join us for an online watch party on Saturday, December 19, at 7:30 p.m. CST.  After that, you will be able to access segments of Augustana's Christmas Vespers via Augustana's YouTube Channel.
Beginning on Friday, December 18, Vespers will be available via television broadcast as listed below. We hope you enjoy this treasured family tradition of worshipping and experiencing the magic of the season from the comfort of your own home this year.

December 18-25 Broadcast Dates and Times
South Dakota Public Broadcasting - 12/18 - 8 p.m.
South Dakota Public Broadcasting - 12/24 - 7 p.m.
Prairie Public Broadcasting - 12/24 - Noon
Ozark Public Television - 12/17 - 8 p.m.
Rocky Mountain Public Broadcasting - 12/23 - 3 p.m.
Rocky Mountain Public Broadcasting - 12/25 - 2:30 a.m.
 
We are pleased and grateful the following stations will broadcast the 2020 Christmas Vespers program as well, times are still TBD:
KIWA-FM, Sheldon, Iowa
WNAX, Yankton, South Dakota
KAYL-FM, Storm Lake, Iowa
KKOJ, Jackson, Minnesota
KNGN-AM/FM, McCook, Nebraska
KSOO, Sioux Falls
KMHL, Marshall, Minnesota
KORN, Mitchell, South Dakota
KICD, Spencer, Iowa
KIWA, Sheldon, Iowa
Dr. Paul Nesheim directs The Augustana Choir and Chamber Choir. The orchestra is led by Dr. Peter Folliard, and Drs. Lisa Grevlos and Russell Svenningsen direct Angelus and the University Chorale. Dr. Christopher Unger directs the band.
---
Gift Ideas from the Center for Western Studies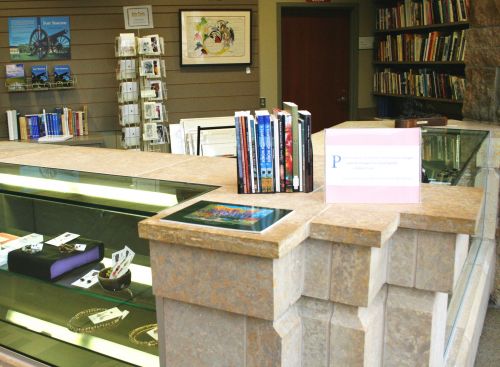 Looking for a special gift this holiday season? Check out the CWS Gift Shop! Come see the unique offerings by local artists, a selection of which you can view in this Facebook album, as well as other jewelry, holiday cards, books and art prints. Stop by Monday-Friday, 8 a.m - 5 p.m., or call 605.274.4007 to inquire about specific pieces.
---
AU Ornaments for the Holidays
Celebrate your holidays in style with ornaments from the Augustana Bookstore.
Augustana Bookstore Hours: December 
Dec. 7-16:  10am-3pm
Dec. 17-20:  CLOSED

Dec. 21-22:  10am-3pm

Dec. 23:  10am-2pm

Dec. 24-27:  CLOSED

Dec. 28-30:  10am-2pm

Dec. 31-Jan. 3:  CLOSED
---
AmazonSmile
You shop and Augustana receives a donation! As a member of the AmazonSmile Charitable Program, Augustana receives 0.5% of the price of your eligible AmazonSmile purchases. Enjoy shopping even more with the knowledge that every dollar you spend on eligible products will benefit Augustana students.
How? Visit the AmazonSmile website. Go shopping!
---
Christmas Giving on Campus
In an effort to help those in need this holiday season, Augustana students are collecting donations and gifts for area teens and families in need. Learn more about how you can help.