Tribute From Rob Oliver, President, Augustana College
Good Afternoon.
I suspect we all have a similar feeling about this day: A day we feared might come, but came way too soon.
To Gene, Mary Kay, and Kate, and to all who loved Tracy: On behalf of the faculty and staff, and the entire Augustana community, I offer our sincere condolences and wish you God's peace.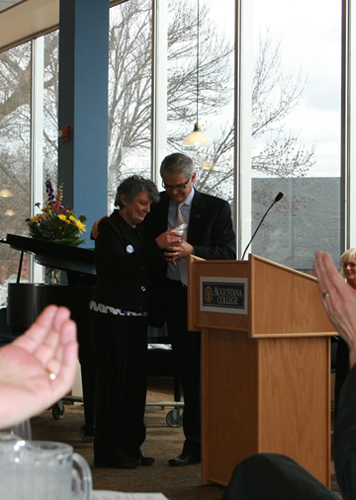 I believe God gives us everything we need, if we only are wise enough to recognize those gifts.
Certainly God gave us who we needed over these past 21 years, in the person of Tracy Riddle.
Tracy Riddle came to Augustana and proceeded to give herself to our students… and to us.
Here was a person full of love and understanding;
 
Here was a person who clearly understood her calling;
 
Here was a person who responded to that call by giving it all, 24/7; 
 
Here was a person who demonstrated commitment to our students without limits;
 
Here was a person capable of unconditional love, yet also capable of tough love;
Here was a person who knew when and how to be serious, and when and how to have fun;
 
Here was a person who took Augustana's mission seriously, but seldom took herself seriously;
 
Here was a person who was truly one of a kind, a unique individual, and Tracy encouraged us all to be so too;
 
Here was a person who wouldn't let even cancer deter her from serving students;
 
Here was a person who valiantly fought even the notion of having cancer;
 
Here was a person who, even at the end, remained more concerned for others than for herself.
Now in spite of all I just said, Tracy – like all of us – was far from perfect, and she would tell us that. She would surely resist all this attention we focus on her today – she would be uncomfortable with it all.
But today we gather to acknowledge the deep sorrow of our loss, yet also to acknowledge our joy for the privilege of knowing and serving with Tracy Riddle
Thanks Tracy… Thank you so much! 
And thanks be to God for her abundant life of service among us!
Now… cradled in the arms of her Lord and Savior, we imagine His words to her:
"Well done, good and faithful servant; now…enter into the joy of your master."