Schedule of Activities for Faith Fest 2013: "River of Life"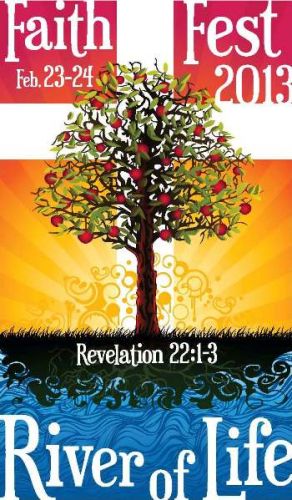 All participants will be asked to sign a covenant limiting the use of cell phones and watches during the course of the event. Also, please note that the Elmen Center has a tendency to be kept very cool, so please plan your sleeping gear accordingly.
Bring a signed permission for treatment and liability waiver for each participant to the event.
We hope you enjoy the music, worship, presentations, games and small group activities at the weekend event.
Following are the activities
planned for Faith Fest 2013.
Saturday, February 23
| | |
| --- | --- |
| 12:30 p.m. | Registration/AGAPE teaser |
| 1:00 p.m. | Games and Mixers |
| 1:30 p.m. | Opening Worship |
| 2:30 p.m. | Breakout Session #1 |
| 3:30 p.m. | Mid-afternoon Break |
| 4:00 p.m. | Breakout Session #2 |
| 5:00 p.m. | Pre-Dinner Entertainment |
| 5:45 p.m. | Dinner |
| 6:30 p.m. | Extreme Board Games |
| 7:30 p.m. | Agape/Rachel Kurtz Concert |
| 9:30 p.m. | Elmen Extravaganza |
| 11:00 p.m. | Common Ground Cool Down |
| 12:00 a.m. | Lights Out |
Sunday, February 24
| | |
| --- | --- |
| 8:00 a.m. | Rise and Shine and Give God the Glory, Glory! |
| 9:00 a.m. | Breakfast |
| 9:30 a.m. | Student Panel |
| 10:15 a.m. | Bible Study Skits-in-a-Bag |
| 11:00 a.m. | Worship |
| 12:00 a.m. | Bye-Bye! |