Senior Speakers 2009-2010
Senior speakers lead the chapel service on Fridays by preparing the order of worship, music and message.
You will need Acrobat Reader to view the following .pdf files. You may download Acrobat Reader free of charge from Adobe's Web site.

May 14, 2010
Phil Mulder
Phil grew up on a small Dutch dairy farm outside of Volga, SD, and soon grew up to be involved with making people laugh, asking deep questions, & taking on a knack for getting to know people. On campus,  he has been active in both Augustana Student Association and Residential Life. His hobbies include rafting down the Big Sioux, reading Jack Handey quotes, and getting lost in worthy conversation. He is a government/international affairs major, philosophy and religion minor.  Phil is planning to head back to China in the coming months in order to become fluent in Mandarin and to gain some work experience relevant to international relations.

May 7, 2010
Marie Halvorson
Marie is a senior communication/business major from Wells, MN.  She has participated on UBG as Coffeehouse Governor and currently serves a Head Governor.  She is involved in Collegiate Chorale, the Augustana Theatre Company, Lambda Pi Eta, and NSO.  Her time and commitment at Augustana have challenged yet strengthened her faith through asking questions, taking risks, and developing meaningful relationships.  Marie plans to move to Kansas City after graduation and pursue a career in a marketing or communications-related field.  Marie talk about the armor of God that Paul describes in Ephesians (Adobe Acrobat .pdf file, 104.65 KB). She concludes:  "We don't want to be defenseless. This is why it's so important to remain alert and steadfast in the armor God has provided us; he will never leave us in the darkness. "

April 30, 2010
Sonia Halbach and Jacinta Sutphin
Sonia is an English and communications major with a minor in journalism from Devils Lake, ND.  She is moving to New York City in June and hopes to go into the publishing world. Sonia took the lead in this two-part sermon, telling the story of pruning the barren fig tree (Adobe Acrobat .pdf file, 45 KB).  She explains the significance of this parable:  "Regardless of whether or not I successfully produced any fruits of knowledge [here at Augustana], I'm not going to be cut down. I'm going to be cut free. Because, thankfully, God doesn't give us a deadline for having all the answers."



Jacinta hails from Worden, MN, and is a senior interdepartmental major.  She has spent four year happily cramming in a variety of eye-opening classes with enriching experiences in theater, band, choir, APO, and UBG Coffeehouse. Jacinta's message (Adobe Acrobat .pdf file, 57.4 KB), continues the gardening metaphor and concludes:  "I am in a constant, pointless battle with time and usually end up losing. But why am I even fighting? And where is Jesus in all this, what is He up to? He's busy pruning, digging, and yes, dare I say, scattering a bit of dung on us."  God is preparing us to flower at the time when we are ready to say "Blessed is the one who comes in the name of Lord." 

 


April 23, 2010
Bob Wendland
Bob has been highly involved in several different on-campus groups and events throughout his four years at Augie: Theatre, New Student Orientation (NSO), Union Board of Governors (UBG), and choir, to name a few. He will be moving out to Connecticut after graduation with his fiance in hopes of working with one of many professional theatres out there. His faith has been challenged, reshaped, and empowered during his time at Augustana, and he is excited to share a few words with the rest of the Augustana community.  Bob thinks about  youthfulness in his sermon (Adobe Acrobat .pdf file, 63.6 KB), declaring at the end, "But I will forever remain youthful. And I think that's who God wants me to be. Someone who doesn't let people despise my youth, but sets the believers an example in speech and conduct, in love, in faith, in purity."

April 9, 2010
Matt Haar
Matt is a senior interested in philosophy and classics. He enjoys studying abroad and recently traveled to Guatemala. Matt enjoys drinking tea. On campus, he is involved in the Augustana Philosophy Club.  Matt introduced a discussion of Abraham's binding of Isaac (Adobe Acrobat .pdf file, 183.6 KB), challenging the campus to read and re-read the text to uncover its questions and discover new depths of meaning.
 

March 26, 2010
Paula Dirksen
Paula is a business administration and interdepartmental double major with an emphasis on entrepreneurship.   She grew up in the country near Twin Brooks, SD, and spends her time outside of class working and participating in ASA, Alpha Psi Omega, and ACTS.  Paula's ultimate dream job would be to travel the world and explore many different cultures at no cost to her.  Paula's sermon (Adobe Acrobat .pdf file, 108.7 KB), meditates on Paul's words in in Philippians when he says that we need to forget the things in our past and reach forth unto those things that are in front of us. 
 
March 12, 2010
Mariam Rollason
Miriam is a senior biology major from the small town Isabel, SD. She keeps busy with classes, the Augie Garden, ASA, and talking about environmental protection at Augie Green. She works as a lab assistant for the Biology Department. Miriam also enjoys readying (for fun), riding bike (when it's warm out), and attempting to cook new foods.  She has recently found a new hobby in drawing. She has also been "chronically infected" with a travel bug, which leads her to an interest in foreign language and culture, her latest trip being to India.  Miriam is thinking of joining the Peace Corps, the JET Program, or getting a job in a non-profit before attending graduate school.  Starting her sermon with the word "mud" (Adobe Acrobat .pdf file, 293 KB), and fond memories of making mud pies in the backyard,  Miriam advocates that the church needs to think about the environment as it fills its role as servant and advocate.

March 5, 2010
Drew Adam
Drew is a senior biology major with a religion minor.  He is passionate about animals, specifically reptiles, and plans to be a zookeeper. He is considering how to combine zookeeping with a career as a pastor.  After graduation, he plans to do missions in Africa for a year. In his sermon (Adobe Acrobat .pdf file, 63.7 KB), Drew tells how his faith has sustained him during times of trouble in his life.

February 26
Will Dietzler
Will is a communications and theater major from Fargo, ND, and has enjoying playing with Brand Name Improv, singing with the Augustana Choir, and working with Lutherans Outdoors in SD for the past two summers. After graduation, Will plans to move to Chicago to pursue a career in theater with an emphasis on improvisation.  In Here I Stand (Adobe Acrobat .pdf file, 67.7 KB), he tells stories about experiences in his life where he "felt God putting his stamp on [his] forehead."

February 19
Kirsten Lenander
Kirsten Lenander is a nursing and exercise science major from St. Joseph, Missouri. When she is not increasing her cardio by doing underwater jumping jacks, Kirsten's favorite pastime is to use her detective skills and track ladybugs filing into her room. While wearing Augie's nursing uniform is great fun, you will most often find her wearing her favorite color combination of emerald and azure.  Kirsten challenged listeners to leave the door unlocked and to accept the opportunities that are given to us (Adobe Acrobat .pdf file, 111.4 KB).
February 12
Jason Johnson
Jason is a business administration Senior with an emphasis in entrepreneurship. He is engaged to be married March 20th, 2010 and will be a part time student for his last semester here at Augustana. He plans to live in Worthington, MN and work as a Realtor. In his message (Adobe Acrobat .pdf file, 156.4 KB), Jason talks about recognizing when God leads you to a calling in life: "If you feel led to something, whether it is a career, an act of kindness, or some kind of participation in something, do it. Maybe it will be a life changer. Maybe it is God leading you to your calling." 

February 5
Austin VandeBerg
Austin is a biology major from Sioux Falls, South Dakota. He is a member of the Augustana Cross Country team and has served on the residential life staff. He enjoys running, rock climbing at the palisades and legos. Austin is interested in learning about science, history, philosophy, and medicine.  In his sermon, he talked about the exclusivity and sufficiency of Jesus Christ (Adobe Acrobat .pdf file, 102 KB).

 

January 22, 2010
Amy Hulstein
Amy is a senior from Sioux Center, Iowa. She stays busy with a heavy load of classes stemming from her triple major of religion, government, and history. When she is not writing or researching an essay, she keeps active on the leadership team of U.T.I.C., Global Issues Forum, and various other activities on campus. She also enjoys spending time with her five nieces and nephews. Amy is unsure of her exact plans for the future, but she is certain they will include further graduate education, possibly focusing on world religions or Islamic studies. Her sermon describes her experience of sharing God's love in China (Adobe Acrobat .pdf file, 96 KB). Traveling the Road of Persecuted Love (MP3 audio)

January 8, 2010
Michael Stutelberg
Michael is a chemistry major from Woodbury, MN. He plans on attending graduate school next year in chemistry or will be doing whatever God has planned for him. He is active in Campus Crusade and the Chess Club at Augustana. Michael has thoroughly enjoyed his Augustana experience.  Michael describes an experience in Ghana during his sophomore year that led him to realize that he has the opportunity to share the Light(Adobe Acrobat .pdf file, 68 KB) with all he meets. Conversation in Ghana (MP3 audio)

December 4, 2009
Elizabeth Dolven-Kolle
Liz is a nursing student from St. Joseph, MN.  She is currently involved with Augustana Nursing Students Association (ANSA), FRIENDSlink, Born Anew outreach team, and Chapel staff.  Liz loves travel, the outdoors, reading, and cheesy Christmas movies.  After college, she plans to take the nursing board exams and find a job in Washington or Oregon.  Her Advent message (Adobe Acrobat .pdf file, 79 KB) examined the fear, astonishment, and silence of the three women who found the stone rolled away from Jesus' tomb on Easter morning.  She told of her own fear to speak after her revelations during a border immersion experience in El Paso, TX, last spring.  Brave Enough to Share the Story



November 20, 2009
Sam Eisele
Sam is a Spanish education major from Sioux Falls.  After graduating, he plans to teach, but will definitely look into graduate study or service abroad opportunities that come his way.  Since coming to Augie, he has traveled to China, England, Germany, Costa Rica, and more!  At Augie, he has been involved in band, theater, residence life staff, and Spanish club.  In his sermon  (Adobe Acrobat .pdf file, 74 KB), Sam declares that God "promises to strip [sin and brokenness] away so that [we] engage in the world again and again, as a little child, curious and exploring the mysteries of life and faith that can and will only bring [us] back to his infinite grace."  Faith of a Child (MP3 audio)



November 13, 2009
Per Nestingen
Per is a senior English major with an emphasis in religion from Minneapolis, MN.  He is a starting pitcher on the Augie baseball team, but also hits home runs whenever the coach requests it.  He is from a long ling of Norwegian Lutherans that taught him to sin boldly!  In his sermon (Adobe Acrobat .pdf file, 68 KB), Per talks being "pared away" and the lessons he found in Mark's story of the widow's offering of her last two coins.  Pared Away (MP3 audio)





November 6, 2009
Alex Eykamp
Alex is a sacred music major and religion minor from Oldham, SD.  He currently serves Campus Ministry as co-coordinator of the Chapel musicians.  During his time at Augustana, he has been a member of the Chapel staff, Collegiate Chorale, and College/Community Band.  He has also been active as an accompanist on campus and as a guest organist at several churches.  After graduation, Alex plans to attend graduate school to study church music and organ performance.  Alex declares in his sermon  (Adobe Acrobat .pdf file, 107 KB) that the "church's song belongs to no one people" or time.  The music of the church allows us to harmonize with the past and keeps us interconnected over time with all the saints.  Harmony with the Saints (MP3 audio)
 

October 30, 2009
Ashley Brewers
Ashley is an elementary education major with a middle school endorsement and a math emphasis.  She is involved in Outreach Ministries and Augustana College Education Association (ACEA).  She has also been an New Student Orientation leader for the past three years.  Ashley looks forward to student teaching in the spring and enjoying her last year at Augie.  Ashley read a favorite children's story:  Apple Trouble by Ragnhild Scamellof. Just as Hedgehog needed protection from falling apples in the story, so God protects us. (Adobe Acrobat .pdf file, 51 KB)  God Protects (MP3 audio)

October 23
Hannah deFreese
Hannah is a history and secondary education major from Gretna, NE.  After graduation, she plans to teach.  For the last two summers, she has worked at Camp Carol Joy Holling for Nebraska Lutheran Outdoor Ministries.  Her sermon (Adobe Acrobat .pdf file, 67 KB) is based on the story in Mark 10 of James and John arguing about who will sit at the right hand and left hand of Jesus.  "We are called to forget ourselves, to serve as Jesus came to serve" instead of worrying about how to be great among men.  Serve as Jesus Did (MP3 audio)

October 16, 2009
Abby Thompson
Abby is a senior vocal music education and sacred music major from Elkhorn, NE.  She has been involved in residential life, the Augustana Choir, Chamber Choir, College-Community Band, and tutoring music theory.  She accompanied for the Asbury Children's Choir and services at Southern Hills United Methodist Church in Sioux Falls.  Her interests include singing, playing the piano, running, water-skiing, and spending time with friends and family.  This spring, she will be student teaching in an elementary school and at O'Gorman High School.  Fittingly on the Friday of Viking Days, Abby talked about how "God is always there ready to welcome us back into our immovable, unshakeable home in Christ" in her sermon entitled "Home." (Adobe Acrobat .pdf file, 126 KB)  Home  (MP3 audio)

October 2, 2009
Miranda Andersen
Miranda is a religion major from Worthington, MN.  She plans on continuing her education by attending seminary next fall.  While at Augustana, Miranda has been involved with Augustana Band, campus ministries, and other various "unofficial" groups on campus. Miranda delivered the Sunday sermon on September 13 entitled "Not About You, All About You" (Adobe Acrobat .pdf file, 122 KB) in which she explored the tension between sin and grace.   Not About You, All About You (MP3 audio)  On October 2, she continued her meditation (Adobe Acrobat .pdf file, 171 KB) on this tension and related it to her love of music.  Tension and Music (MP3 audio)


September 25, 2009
Logan Lee
Logan is an economics and government major from Conrad, MT.  After college, Logan is considering graduate school in economics.  At Augie, Logan participates in a number of groups, including chapel musicians and the Augustana Choir.   His sermon (Adobe Acrobat .pdf file, 141 KB) wrestles with the "symbiotic relationship" that makes faith and works mutually beneficial for a Christian.  Faith and Works (MP3 audio)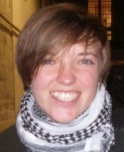 September 18, 2009
Megan Hasche
Megan is a senior journalism and French major with a passion for travel, faith and dark coffee.  She grew up in Sioux Falls, SD.  While her future is still completely unknown, she hopes to spend a year or two after college volunteering at home and abroad.  In her Chapel message (Adobe Acrobat .pdf file, 168 KB), she talked about the way exploring the world and its people has taught her to explore her faith.  Exploration (MP3 audio)



September 11, 2009
Beth Singleton
Beth is a religion and philosophy major from Moorhead, MN.  Her future plans are to attend an ELCA seminary and become a pastor with specific interests in social justice, prison ministries, and urban ministries.  She has been involved in residence life, new student orientation, outreach, service projects, and "learn to swim" program, and intra-mural sports.  In her message (Adobe Acrobat .pdf file, 141 KB), she speaks of community and communion.
Community and Communion (MP3 audio)

Related files