International Theme Programming
"China and Globalization" is Augustana's International Theme
Designed to increase students' understanding of global issues, Augustana introduced the International Theme during the 2009-10 academic year by studying and supporting issues related to Guatemala. For the 2010-11 year, amid the College's sesquicentennial, the theme was Norway. For the 2011-12 year, the theme was World Hunger and Poverty.
"By taking time to explore issues and support causes related to our International Themes, we will all be better suited to appreciate and understand important topics that extend far beyond our local, state and national borders," said Sam Ogdie, instructor of Spanish and Augustana's Co-Curriculum Theme Year Coordinator. "We are hopeful the Augustana community, including students, faculty and staff, will participate and engage in the 'China and Globalization' programs and activities we have planned."
"China and Globalization" programming efforts include:
In addition to the planned events and activities, Augustana students, faculty and staff are also encouraged to develop additional ways to support the International Theme. "Mini-grants" of up to $500 are available to assist students, faculty and staff in developing and implementing programs in support of "China and Globalization." There is no deadline to apply; however, early submission is encouraged.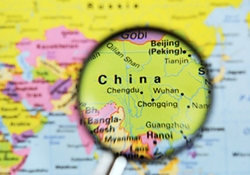 Did you know?
Facts about China on campus-wide posters:
► The
world's largest
population and
third largest
area.
►The
world's fastest
growing economy for the last 30 years (10% or more per year).
►
Greatest
altitude difference of 9,002 m. (29,534 ft.) With Mount Everest at 8,848 m. (29,029 ft.) to the Turpan Depression at -154 m. (-505 ft.) That's the
world's highest
point all the way down to the
world's third lowest
point.
►Ice cream was invented in China around 2000 B.C. when the Chinese packed a soft milk and rice mixture in the snow.