China and Globalization — 2012-2013 International Theme
"China and Globalization" is Augustana's International Theme
Designed to increase students' understanding of global issues, Augustana introduced the International Theme during the 2009-10 academic year by studying and supporting issues related to Guatemala. For the 2010-11 year, amid the College's sesquicentennial, the theme was Norway. For the 2011-12 year, the theme was World Hunger and Poverty.
"China and Globalization" programming efforts include: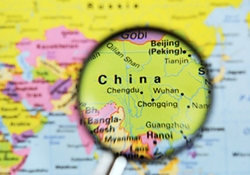 Did you know?
Facts about China on campus-wide posters:
► The
world's largest
population and
third largest
area.
►The
world's fastest
growing economy for the last 30 years (10% or more per year).
►
Greatest
altitude difference of 9,002 m. (29,534 ft.) With Mount Everest at 8,848 m. (29,029 ft.) to the Turpan Depression at -154 m. (-505 ft.) That's the
world's highest
point all the way down to the
world's third lowest
point.
►Ice cream was invented in China around 2000 B.C. when the Chinese packed a soft milk and rice mixture in the snow.