NSS Required Reading
New Student Seminar (NSS) is a one-credit, required course that will initiate you into a variety of Augustana experiences. The reading assignment for this class is No Impact Man by Colin Beavan.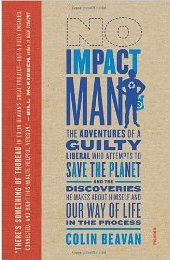 *taken from colinbeavan.com:
*Author Colin Beavan, in research for his next book, began the No Impact Project in November 2006. A newly self-proclaimed environmentalist who could no long avoid pointing the finger at himself, Colin left behind his liberal complacency for a vow to make as little environmental impact as possible for one year.
No more automated transportation, no more electricity, no more non-local food, no more material consumption... no problem.
That is, until his espresso-guzzling, retail-worshipping wife Michelle and their two year-old daughter are dragged into the fray.
"No Impact Man is a deeply honest and riveting account of the year in which Colin Beavan and his wife attempted to do what most of us would consider impossible. What might seem inconvenient to the point of absurdity instead teaches lessons that all of us need to learn. We as individuals can take action to address important social problems. One person can make a difference."
— Marion Nestle, author of What to Eat