East Hall
East Hall is a warm and inviting home to upperclass students who wish to live in a responsible living environment, in which students are given the freedom to discuss and implement their own policies regarding quiet hours and intervisitation.
East Hall is a quiet and relaxed atmosphere conducive to both study and socialization. East is a unique building, listed on the National Register of Historic Places. It was built in 1905, when it was originally named Ladies Hall, and became East Hall when it was renovated in 1980. East Hall has a kitchen, computer lab, laundry facilities, several lounge areas, and a game room. One of the most unique aspects of East Hall can be found in each of its 49 rooms, which are all different in size and layout,  providing for a more suite-style, customized feel than a traditional residence hall room. Each room is also wired for internet and cable connections.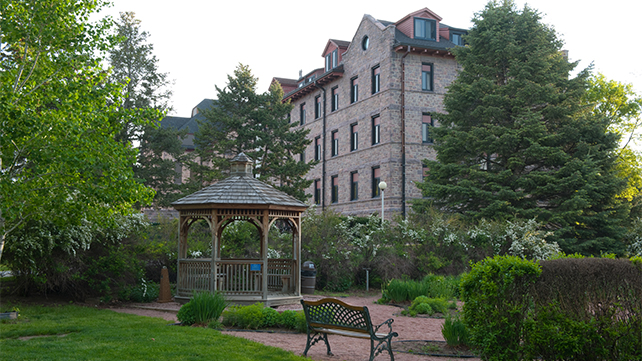 Room Dimensions
Each room in East Hall has different dimensions, depending on the room. Contact the Center for Campus Life for individual room information.
 
Hall Staff
East is staffed by 3 Viking Advisors (VAs) and one graduate assistant hall director. While you can usually find staff in the hall throughout most any day, designated VAs are required to be in the building and accessible to students every night after 7 pm. Staff can also be reached by calling the East Hall on-call phone at 605.553.7687.