Granskou Hall
Each room has space for two occupants, and is equipped with a wireless internet connection, cable capabilities, and climate control!
---
Perched on the north end of campus, Granskou Hall towers over the Augustana campus, providing great views of campus and the residential community to the north.
Please contact the Center for Campus Life at 605-274-5215 with questions.
Amenities
Pool table
Vending machines
Computer lab
Elevator
Kitchen
Big screen TV
Laundry facilities
Piano room
Room Dimensions
Granskou rooms are 14' 5" by 9' 9" + 22" under the desk area. Rooms ending in 03, 08, 13, and 18 have been modified, possibly affecting lofts.
Furniture Layouts
The furniture in Granskou Hall is modular, which means you can use individual pieces to customize your room layout. Check out this video for room arrangement ideas.
Hall Staff
Granskou is staffed by 8 Viking Advisors (VAs) and there is also a professional area director that oversees Granskou and East halls.  While you can usually find staff in the hall throughout the day, designated VAs are required to be on call and accessible to students every night after 7 pm.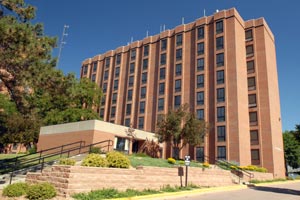 Named for Augustana's 14th president, Rev. Dr. Clemens M. Granskou, Granskou Hall is an eight story upperclass residence hall. It is identical to and east of Stavig Hall. Granskou and Stavig Halls are often referred to as "The Towers." Major renovations, including new fire suppression systems, new lighting, carpeting and room furnishings, were completed in summer 2011.