Solberg Hall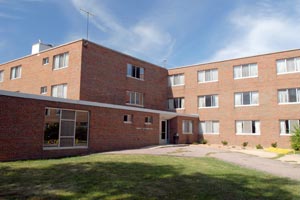 Charles Orin Solberg Hall, a four story brick building, is home to 220 freshmen men and women. The hall was named for the 11th President of Augustana. The building has recreational facilities, a chapel, kitchen, laundry facilities, lounge areas, a computer lab, and a staff apartment. All rooms are wired for data and cable connections, and a wireless connection is available throughout the entire building. Each room is cable TV ready.

Room Dimensions
Solberg rooms are 12' 1/2" x 15' 9".
In Solberg, the twin bed mattresses are 36"x80". Extra long twin size sheets are recommended.

Hall Staff
Solberg is staffed by 6 Peer Advisors (PAs) and one professional Hall Director. While you can usually find staff in the hall throughout most any day, designated PAs are required to be in the building and accessible to students every night after 7 pm. Staff can also be reached by calling the Solberg Hall on-call phone at 605.553.7685.