Tuve Hall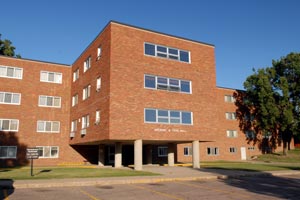 Named for Augustana's eighth president, Anthony G. Tuve, this three story building is a co-educational Residence Hall for third and fourth-year students. Tuve Hall, is one of two (East Hall being the other) responsible living Residence Halls at Augustana in which students are given the freedom to discuss and implement their own policies regarding quiet hours and intervisitation. Tuve Hall also provides upper-classmen with the benefits of single rooms for all residents, and the ability to further decorate their rooms by painting one wall.  Also unique to Tuve Hall is the accessibility of the guest suite which can be used for overnight guests free of charge.
Tuve Hall has a large recreation room equipped with ping pong and pool tables, two kitchens, laundry facilities on every floor, lounge areas, a computer lab, and a large lobby area which includes a big-screen television perfect for movies or a great place to hang out with friends.
Come join us in Tuve Hall!
 
Room Dimensions
Rooms in Tuve Hall are 11' 8 1/4" x 13' 6 3/4".

Hall Staff
Tuve is staffed by 3 Peer Advisors (PAs) and one Graduate Assistant Hall Director. While you can usually find staff in the hall throughout most any day, designated PAs are required to be in the building and accessible to students every night after 7 pm. Staff can also be reached by calling the Tuve Hall on-call phone at 605.310.3044.