The Art of Cathleen Benberg and Steve Beaubien En Plein Air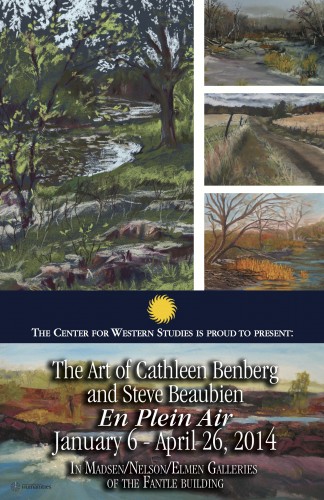 The first exhibition in the newly revitalized Madsen, Nelson, and Elmen Galleries of the Fantle Building features works by regional artists Cathleen Benberg and Steve Beaubien.
Benberg and Beaubien share a unique joy for painting en plein air, or outdoors. Painting natural landscapes as well as architectural scenes, both artists evoke the spirit of life on the Northern Plains where the lines between city and country are often blurred.
Cathleen Benberg grew up on a farm in northwest Iowa and majored in art at Northwestern College in Orange City. She has lived in Philadelphia, Pa., Apache, Okla., Mandan, N.D., and moved to Sioux Falls in 1991. A graphic designer by trade, she enjoys drawing plein air landscapes and portraits in pastel and charcoal.
Steve Beaubien, a fine art painter in oils, was born and raised in northwest Iowa, relocated in the mid-1990's and today is making his home in Sioux Falls, SD. Throughout his developing career as an artist, many friends, teachers and other artists have influenced his artwork.
Originally scheduled to close April 26, the popular show is being held over until Saturday, May 31, and several new pieces by Steve Beaubien were added April 28. Admission is free though goodwill donations are accepted. A gallery reception with an artist talk by both Cathleen Benberg and Steve Beaubien was held Wednesday, Jan. 22, from 4-6 p.m.
Madsen/Nelson/Elmen Galleries of the Fantle Building
The Center for Western Studies
2121 South Summit Avenue, Sioux Falls, South Dakota