CWS Barnes and Noble Bookfair Fundraiser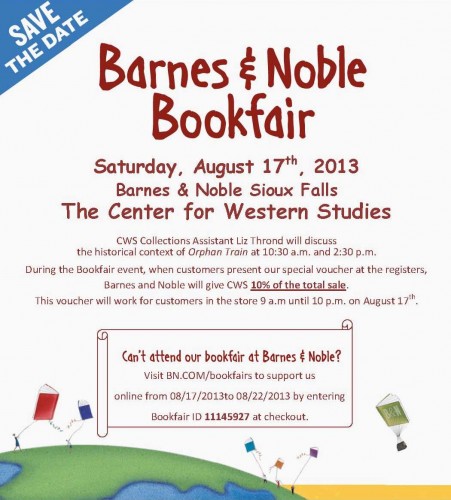 This is a unique fundraising opportunity for CWS. During the Bookfair, whenever customers present our special voucher, Barnes and Noble will donate 10% of the total sale to the Center for Western Studies. Best of all, there is no additional cost to the customer to participate in this program.
There are two ways to participate in the Bookfair event and support CWS. Customers can use our voucher with any purchases made at the store in Sioux Falls on Saturday, August 17. These vouchers will be available at a special CWS table in the store, or at the register (please tell the cashier you wish to use the CWS voucher).  You can also print one to bring from home
here
. Store hours are 9 a.m. to 10 p.m. that day.
In addition, customers can use the voucher for all barnesandnoble.com purchases from August 17th - 22nd. The voucher code, 11145927, just needs to be typed in at the point of purchase.
Don't miss the entertainment portion of our special day at Barnes and Noble. CWS Collections Assistant Liz Thrond will be discussing the historical context of the B&N featured book
Orphan Train
by Christina Baker Kline. Stop by during the in-store Bookfair event at 10:30 a.m. or 2:30 p.m. to hear about this interesting facet of Northern Plains history.
Please support the Center for Western Studies by shopping at the Sioux Falls Barnes and Noble store on August 17th with our voucher, or by using our voucher code,
11145927
, when shopping at
barnesandnoble.com
from August 17th through August 22nd.