June Event to Feature 'Early Views of Dakota Territory'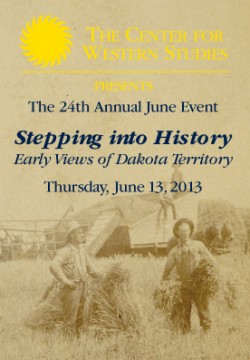 The Center for Western Studies will host its 24th annual June Event, "Stepping into History: Early Views of Dakota Territory," featuring dinner, entertainment and the premiere of the "Dakota Territory Plans and Mountains (1866-1889): Images from the Robert Kolbe Collection." Proceeds from the event will benefit the redesign and expansion of the Center's museum exhibits.
The June Event is the Center's annual fundraiser and will be held in the Center's Madsen/Nelson/Elmen Galleries. Guests will be treated to a gourmet meal and music, featuring Ana Olivier at the piano. The evening begins with a reception at 6 p.m., followed by dinner and a presentation by Robert E. Kolbe. The event is sold out.
About the Exhibit
Former Minnehaha County Commissioner Robert Kolbe is known as the one to call if your antique clock needs repair or if you find an old bottle in your backyard. He is also an expert on early photography in Dakota Territory, co-author of "They Captured the Moment: Dakota Photographers, 1853-1920," editor of "Minnehaha County Historical & Biographical Sketches," and an appraiser of historical books, documents, and photos.
Kolbe is the immediate-past President of the Minnehaha County Historical Society and the mayoral appointee to the Siouxland Heritage Museums Board for 2013. He has been a member of the South Dakota State Historical Society Board of Trustees since 2004. A popular and long-time presenter at the CWS Dakota Conference, West River History Conference, and the State Historical Society History Conference, Kolbe has earned several recognitions, including the Distinguished Contribution Award for Preservation, given by the CWS Board of Directors, and the Zoom Zoom Award, given by the organizers of the West River History Conference. He has also made generous donations of historical items to such repositories as the Center for Western Studies, Siouxland Heritage Museums, and the State Historical Society.
Kolbe is currently conducting research for a new book on stereographic views of the Black Hills Gold Rush, 1875-1879, and planning a second edition of "They Captured the Moment."
About the Center for Western Studies
Founded by Augustana College Professor of English and Writer-in-Residence Herbert Krause, the Center for Western Studies (CWS) preserves and interprets the history and cultures of the Northern Plains.
The Center began in 1970 as a library and archives and has expanded to promote understanding of the region through exhibits, publications, internships, teaching and such public events as the Dakota Conference on History and Literature (held in April), the Artists of the Plains Art Show and Sale (held in February), and the Boe Forum on Public Affairs.
The event is sponsored by Gerry Berger Law, a member of the Center for Western Studies' Board of Directors.
The event is sold out. For more information about the event, please mail the reply card, call the CWS at 605.274.4007, email cws@augie.edu or visit the website at www.augie.edu/cws.