Charting His Course
Freshman Brad Ostendorf, a Mathematics and Secondary Education major from Andover, Minn., describes his first year as a college student.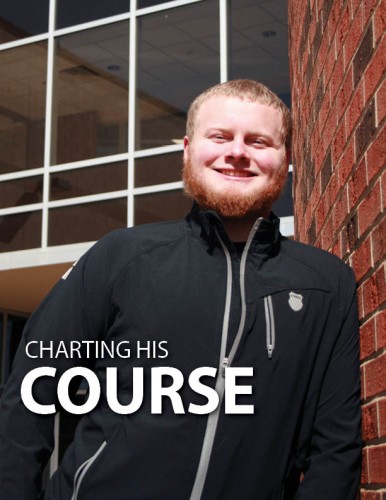 Q. What's the best part about living on campus?
A. I live in Solberg Hall. The best part about living on campus is having the opportunity to get to know your fellow classmates on a much more personal level. Living on campus helps build that sense of community that is so important. It also is nice that I can wake up 10 minutes before class and get there early.

Q. How has the transition from high school to college gone for you?
A. I missed home a great deal. The people I was surrounded by made the transition easier. Augustana is full of students and professors that truly care about you as an individual. They are willing to help you in any way possible to make your goals achievable.

Q. What activities are you participating in?
A. I am in Track and Field, am employed  at the Elmen Center and I participate in multiple intramurals.

Q. Why did you choose Augustana?
A. I wanted to attend a school where I wasn't just a number. I didn't want college to be an experience in which I only developed academically. College should be a time where you learn who you truly are and who you want to become. I knew that a liberal arts school with a core value of community, like Augustana, would allow me to do that. I also chose Augustana because when I was touring the school there was a certain feeling I got while I was on campus. It was a feeling that is tough to describe in words. The easiest way to put it is that it just felt right. I could tell that it was the school for me.

Q. Is college life what you expected?
A. So far it hasn't been! I came in expecting intimidating professors, massive classes and feeling trapped in school with no personal time. I am happy to say that has not been the case. The professors are very personable and the class sizes are small enough to have interactions with everyone. Personal time is also something that I have plenty of. I was worried my life would consist of eating, studying, and sleeping but I have found that, at times, I actually have more personal time than I know what to do with. I quickly realized that college is not something to be afraid of. Especially a college like Augustana where everyone is friendly and willing to help you in any way possible so that you can be successful.

Q. What do you think about living in Sioux Falls? Is it different than you expected?
A. Sioux Falls is a fantastic place to live! There are so many places to go, sites to see and restaurants to eat at that the problem is having everybody agree on what to do… and having the money to do it! What's great is that not everything costs money in Sioux Falls. Sometimes a trip to Falls Park or a stroll through downtown Sioux Falls can make for a great Friday or Saturday night.
Q. Where is your favorite place on campus?
A. The Elmen Center. There are so many fun activities going on at all times! It keeps me active and gives me a place to go when I am feeling stressed and overwhelmed.

Q. Where is your favorite place to study?
A. The basement of the Gilbert Science Center. I get a table and a chalkboard to myself. It is also right next to the professor's offices. They are always willing to help me when I have questions.

Q. Where is your favorite off-campus destination?
A. Falls Park! The scenery is incredible and it is always a great time! It serves as a very relaxing experience when stress may be building up.

Q. What's a typical weekday like?
A. A typical day for me includes attending two to three classes a day and finishing around 2 p.m.. After that I go to track practice from 3-5 p.m. Then I go to dinner at the commons and enjoy a meal with all of my friends. I then begin doing my homework and studying. After studying for a while I take a well-earned break by going to the Elmen Center and playing some intramurals. After that I go back to my dorm and relax by watching Netflix!
Q. What's a typical weekend like?
A. A typical weekend consists of me and my friends trying to decide what to do. This always serves as a challenge because deciding between the activities Augustana provides and the endless things Sioux Falls has to offer is no easy task. We usually participate in one of the awesome activities the Elmen or UBG puts on!

Q. Any college search tips to offer?
A. Go with your gut! Keep touring schools until you find that one where when you walk on campus and talk to the people that go there, you just know that it is the place for you. Find that place where when you are asked the question, "Why there?" you can simply answer, because it felt right.

Q. What is the one thing you'd say to students considering Augustana?
A. You won't find another school like it. Augustana is one of a kind! I like to call Augustana the school of clichés because most of the time, the clichés fit. Augustana is a place where the opportunities are endless, all you have to do is go out there and grab them.

Q. Favorite class so far?
A. Religion 110. This has been my favorite class so far because it allowed me to expand on my outlook on life. It wasn't a course designed only to teach the facts about religion, but also the philosophical aspect of it. It helped me to answer many questions I had about life, and even more importantly, it raised more questions for me to answer.

Q. Favorite professor, so far, and why?
A. Dr. Sandra Looney (English). She is my favorite professor so far because she makes every day in class a joy. She inspires through her passion for the subject matter and her students. She taught me at the very beginning of the school year that there is much more to school than just grades. What is most important is what you get out of your time at Augustana College. If you develop as a student and as a person through your experiences then it has been time well spent. It is your money and time, make the most of it!