Christmas at Augustana
---
Join us for these Augustana Christmas events:
Christmas Vespers
Dec. 14 in the Twin Cities
Join us for Christmas Vespers 2018, a celebration of the birth of Christ featuring Augustana's four choirs, the orchestra, brass and organ, presented by the Augustana Performing and Visual Arts.
Upcoming performance:
Friday, Dec. 14, at St. Andrew's Lutheran Church, located at 900 Stillwater Road in Mahtomedi, Minnesota. Performance time is:

7 p.m.
New this year: join the students and alumni/friends for an Italian buffet dinner ($12) provided by Donatelli's. Limited to the first 150 guests and served at 5:30 p.m. in the Great Hall at St. Andrew's.
Refreshments follow the performance in the Welcome Center.
Tickets are $17 for adults, $12 for seniors (65+), and $10 for students K-12 and Augie students with an ID. Buy tickets.
Dr. Paul Nesheim directs The Augustana Choir and Chamber Choir. The orchestra is led by Dr. Peter Folliard, and Dr. Lisa Grevlos and Dr. Russell Svenningsen direct Angelus and the University Chorale. Dr. Christopher Unger directs the brass ensemble.
Dec. 22-25 Broadcast Dates and Times
We are pleased and grateful the following stations will broadcast an hour-long version of the 2018 Christmas Vespers program on the following dates and times:
---
Christmas Instrumental Concert
Thursday, Dec. 6, at the Washington Pavilion
Join us for "'Postcards from the North Pole," a free instrumental concert featuring more than 130 musicians from the Augustana bands, the Northlanders Jazz Band and more, at 7:30 p.m. on Thursday, Dec. 6, at the Washington Pavilion in historic downtown Sioux Falls.
This special event is designed to celebrate the magic and joy of the season and is presented free as a Christmas gift from Augustana to residents of Sioux Falls and the area. Join us as we not only rejoice in the season, but celebrate the 100th anniversary of Augustana University in the city of Sioux Falls!
Free tickets are available at the Washington Pavilion. All seats are reserved. Reserve your free ticket today.
---
Gift Ideas from the Center for Western Studies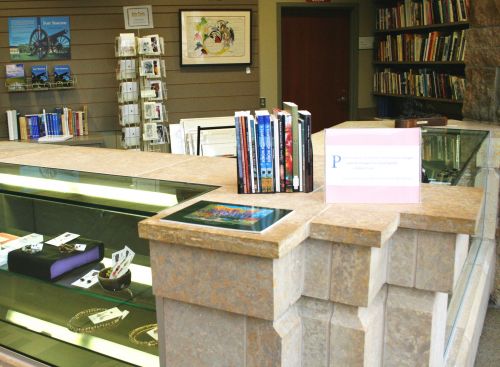 Looking for a special gift this holiday season? Through Friday, Dec. 21, save 30% on all books and 20% on all jewelry and pottery in the CWS Gift Shop! Come see the unique offerings by local artists, a selection of which you can view in this Facebook album, as well as other jewelry, holiday cards, books and art prints. Stop by Monday-Friday, 8 a.m - 5 p.m., or call 605.274.4007 to inquire about specific pieces.
---
AU Ornaments for the Holidays
Celebrate your holidays in style with ornaments from the Augustana Bookstore.
Bookstore Regular Fall Hours
Monday - Thursday: 9 a.m.-5 p.m.
Friday: 9 a.m.-4:30 p.m.
Saturday: 10 a.m.-12:30 p.m.
Sunday: Closed
Bookstore Holiday Hours
Saturday, Dec. 8: 11 a.m. - 4 p.m. and 8 p.m. - 10 p.m. for semester shutdown
Sunday, Dec. 9: Closed
Monday, Dec. 10 - Thursday, Dec. 13: 9 a.m. - 5 p.m. 
*Rental textbooks due Thursday, Dec. 13*
Friday, Dec. 14: 9 a.m. - 4 p.m.
Saturday, Dec. 15 & Sunday, Dec. 16: Closed
Monday, Dec. 17 - Friday, Dec. 21: 10 a.m. - 3 p.m.
Saturday, Dec. 22 - Wednesday, Dec. 26: Closed
Thursday, Dec. 27 - Friday, Dec. 28: 10 a.m. - 3 p.m.
Saturday, Dec. 29 - Tuesday, Jan. 1: Closed
---
AmazonSmile
You shop and Augustana receives a donation! As a member of the AmazonSmile Charitable Program, Augustana receives 0.5% of the price of your eligible AmazonSmile purchases. Enjoy shopping even more with the knowledge that every dollar you spend on eligible products will benefit Augustana students.
How? Visit the AmazonSmile website. Go shopping!
---
Christmas Giving on Campus
In an effort to help those in need this holiday season, Augustana students are collecting donations and gifts for area teens and families in need. Learn more about how you can help.