Christmas at Augustana
---
Dec. 22-25 Broadcast Dates and Times
We are pleased and grateful the following stations will broadcast an hour-long version of the 2018 Christmas Vespers program on the following dates and times:
---
Gift Ideas from the Center for Western Studies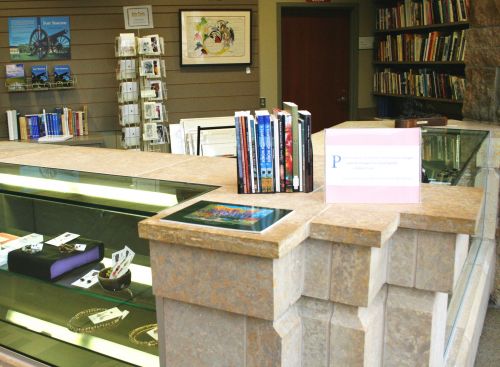 Looking for a special gift this holiday season? Through Friday, Dec. 21, save 30% on all books and 20% on all jewelry and pottery in the CWS Gift Shop! Come see the unique offerings by local artists, a selection of which you can view in this Facebook album, as well as other jewelry, holiday cards, books and art prints. Stop by Monday-Friday, 8 a.m - 5 p.m., or call 605.274.4007 to inquire about specific pieces.
---
AU Ornaments for the Holidays
Celebrate your holidays in style with ornaments from the Augustana Bookstore.

Bookstore Holiday Hours
Saturday, Dec. 8: 11 a.m. - 4 p.m. and 8 p.m. - 10 p.m. for semester shutdown
Sunday, Dec. 9: Closed
Monday, Dec. 10 - Thursday, Dec. 13: 9 a.m. - 5 p.m. 
*Rental textbooks due Thursday, Dec. 13*
Friday, Dec. 14: 9 a.m. - 4 p.m.
Saturday, Dec. 15 & Sunday, Dec. 16: Closed
Monday, Dec. 17 - Friday, Dec. 21: 10 a.m. - 3 p.m.
Saturday, Dec. 22 - Wednesday, Dec. 26: Closed
Thursday, Dec. 27 - Friday, Dec. 28: 10 a.m. - 3 p.m.
Saturday, Dec. 29 - Tuesday, Jan. 1: Closed
Bookstore Regular Spring Hours
Monday - Thursday: 9 a.m.-5 p.m.
Friday: 9 a.m.-4:30 p.m.
Saturday: 10 a.m.-12:30 p.m.
Sunday: Closed
---
AmazonSmile
You shop and Augustana receives a donation! As a member of the AmazonSmile Charitable Program, Augustana receives 0.5% of the price of your eligible AmazonSmile purchases. Enjoy shopping even more with the knowledge that every dollar you spend on eligible products will benefit Augustana students.
How? Visit the AmazonSmile website. Go shopping!
---
Christmas Giving on Campus
In an effort to help those in need this holiday season, Augustana students are collecting donations and gifts for area teens and families in need. Learn more about how you can help.