Dr. Jennifer A. Gubbels
Dr. Gubbels teaches introductory biology, human physiology, general physiology, and immunology. Her research focuses on mechanisms of metastasis and immune escape in epithelial ovarian cancer. Dr. Gubbels received her bachelor's degree in biological research from Loras College in Dubuque, IA, and her Ph.D. in endocrinology and reproductive physiology from the University of Wisconsin-Madison.

Associate Professor
Biology Department
Augustana University
2001 S. Summit Ave.
Sioux Falls, SD 57197
Phone 605.274.4728
Toll-Free 800.727.2844 ext. 4728
Fax 605.274.4718
E-mail: jennifer.gubbels@augie.edu
Education/Training
Ph.D., Endocrinology-Reproductive Physiology      University of Wisconsin-Madison           2009
Dissertation Title: "Cell Surface MUC16: Metastasis, Immune Evasion, and the Promise of Immunocytokine Therapies in Epithelial Ovarian Cancer."
B.S., Biological Research                                             Loras College, Dubuque, Iowa                 2004
Courses Taught
Human Physiology
Advanced Human Physiology
Introductory Biology
Immunology
Senior Capstone: "Life's Cycles: Birth, Death, and a History of Medicine"
Research Interests
Metastasis and Immune Escape in Epithelial Ovarian Cancer
Epithelial ovarian cancer is the deadliest of the gynecological malignancies, killing about 14,000 women in the United States each year. This cancer type has a 90% cure rate when diagnosed in early stages, however, 70% of women are not diagnosed until the cancer has progressed to later stages. At this point, the 5-year survival rate plummets to 5%.
My lab focuses on mechanisms of ovarian cancer immune evasion and metastasis.  In other words, we are interested in how cancer cells "trick" the immune system into letting them grow, and how cancer cells spread throughout the body.  Specifically, we are working on a protein called SUSD2, which is overexpressed by ovarian tumors.  This protein is expressed minimally in normal tissues, which makes it a good target for immunotherapies.  SUSD2 on the surface of the cancer cell binds to another protein called galectin-1.  This protein is interesting because it causes T cell (a type of immune cell) death.  Therefore, instead of the immune cell attempting to kill the cancer cell, the roles are reversed, and the cancer cell is attempting to kill the immune cell.  We are in the beginning stages of determining if this happens in ovarian cancer, and, if so, the specific mechanism.  We are also interested in the role of SUSD2 in metastasis.  We have shown that SUSD2 expressing cancer cells may migrate faster than cells that do not express SUSD2.  This mechanism has also yet to be determined.  Another interest of my lab is endometriosis. We are helping our collaborator define the immune cells present in the peritoneal fluid of endometriosis patients. 
Some of the methods we use include flow cytometry, plate based adhesion assays, cell culture, western blotting, and fluorescent and confocal imaging.  Below is an example of an image we took that demonstrates an "immune synapse", which is a tight junction between an immune cell and its target (in our case, a cancer cell) that it is attempting to kill.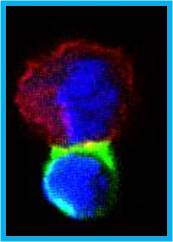 An example of an immune synapse. The immune cell (bottom) is polarizing the adhesion molecule, LFA-1 (green) to the site of contact with the ovarian cancer cell (top). Red staining is for F-actin, and blue is a nuclear stain.
Publications
Gubbels JA, Gadbaw B, Buhtoiarov I, Horibata S, Kapur A, Patel D, Hank J, Gillies S, Sondel P, Patankar M, Connor J.  "AB-IL2 fusion proteins mediate NK cell immune synapse formation by polarizing CD25 to the target cell-effector cell interface."  Cancer Immunol Immunother.  27 Jul 2011.
Patankar M, Gubbels JA, Felder M, and Connor JP.  The immunomodulating roles of glycoproteins in epithelial ovarian cancer.  Frontiers in Bioscience. In press.
Buhtoiarov I, Neal Z, Gan J, Buhtoiarova T, Patankar M, Gubbels JA, Hank J, Yamane B, Rakhmilevich A, Reisfeld R, Gillies S, and Sondel P. Differential internalization of hu14.18-IL2 immunocytokine by NK and tumor cell: impact on conjugation, cytotoxicity and targeting. J Leukoc Biol. 19 Jan 2011 (Epub)
Belisle JA, Horibata S, Gubbels JAA, Petrie S, Kapur A, Andre S, Gabius HJ, Rancourt C, Connor J, Paulson JC, Patankar MS.  "Identification of Siglec-9 as the receptor for MUC16 on human NK cells, B cells, and monoctyes."  Mol Cancer 2010 May 24; 9:118.
Gubbels JAA, Claussen N, Kapur AK, Connor JP, and Patankar MS.  "The detection, treatment, and biology of epithelial ovarian cancer."  Journal of Ovarian Research.  2010 Mar 29;3:8
Gubbels JAA, Felder M, Horibata S, Belisle JA, Kapur AK, Holden H, Petrie S, Migneault M, Rancourt C, Connor JP, and Patankar MS.  "MUC16 provides immune protection by inhibiting synapse formation between NK and ovarian tumor cells."  Mol Cancer. 2010 Jan 20; 9:11
Goodell CA, Belisle JA, Gubbels JAA, Migneault M, Rancourt C, Connor J, Kunnimalaiyaan M, Kravitz R, Tucker W, Zwick M, Patankar MS.  "Characterization of the tumor marker muc16 (ca125) expressed by murine ovarian tumor cell lines and identification of a panel of cross-reactive monoclonal antibodies."  Journal of Ovarian Research.  2009 Jun 18;2(1):8.
Gubbels JAA , Connor JP, and Patankar MS. "The Role of MUC16 in the Pathogenesis of Epithelial Ovarian Cancer." Book Chapter. Methods of Cancer Diagnosis: Therapy and Prognosis. Springer Co. 2007.
Belisle JA, Gubbels JAA , Raphael C, Migneault M, Rancourt C, Connor JP, Patankar MS. "Peritoneal natural killer cells from epithelial ovarian cancer patients show an altered phenotype and bind to the tumor marker MUC16 (CA125)" Immunology. 2007 Nov; 122 (3): 418-29.
Gubbels JAA , Belisle JA, Onda M, Rancourt C, Migneault M, Ho M, Bera T, Connor J, Sathyanarayana BK, Lee BK, Pastan I, Patankar MS. "Mesothelin binds with high affinity to N-linked glycans expressed on the ovarian tumor mucin, MUC16"Mol Cancer. 2006 Oct. 26; 5(1): 50.
Engle DB, Belisle JA, Gubbels JAA , Petrie SE, Hutson PR, Kushner DM, Patankar MS. "Effect of acetyl-l-carnitine on ovarian cancer cells' proliferation, nerve growth factor receptor (Trk-A and p75) expression, and the cytotoxic potential of paclitaxel and carboplatin."Gynecol. Oncol . 2009. Mar; 112 (3) 631-6.