Exhibit Features Federal Duck Stamp Winner Joshua Spies
Event Details
---
Date: March 4 - May 29, 2009
Times: Hours are 8:00 a.m.-noon and 1:00-5:00 p.m. weekdays and 10:00 a.m.- 2:00 p.m. on Saturdays, reception on March 5 is at 5:00 p.m. to 7:00 p.m.
Location: Center for Western Studies, Augustana College
Ticket Info: Admission is free.
SIOUX FALLS – The artwork of Watertown, S.D., artist Joshua Spies will be displayed at the Center for Western Studies at Augustana College beginning Thursday, March 5.
Spies is a well-known wildlife artist whose compositions extend from North America to Asia, and Africa to Australia. His style is known as photo-realism—original acrylic and pencil drawings that look just like photographs.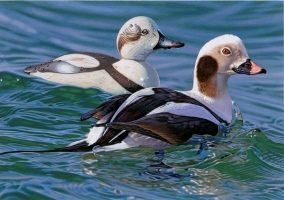 Spies is the most recent winner of the Annual Federal Duck Stamp Competition, which was held in Bloomington, Minn., October 17-18, 2008. The Federal Bird and Migratory Stamp Competition is the largest wildlife competition in the world, attracting 270 entries this year. Spies' painting, Long-Tailed Duck with Decoy, will be featured on the 2009-2010 Federal Duck Stamp, which will go on sale in late June, 2009.
A reception and gallery talk is scheduled for Thursday, March 5, from 5:00-7:00 p.m. The gallery talk will be at 6:00 p.m. The event is free and open to the public.
"Fine art enthusiasts, wildlife art fans, and everyone in between will enjoy Joshua's impressive art," said Tim Hoheisel, CWS Director of Outreach and Communication. "He is a talented artist who has gallery shows all over the country. We are pleased to be able to have an exhibition of his work right here in Sioux Falls."
The exhibit will be on display in the Madsen, Nelson, and Elmen Galleries at the Center through May 30. For more information about Joshua Spies, please visit his Web site at: www.joshuaspies.com
The Center for Western Studies is located in the Fantle Building at 2121 S. Summit Avenue in Sioux Falls. Hours are 8:00 a.m.- noon and 1:00 p.m. - 5:00 p.m. weekdays and 10:00 a.m.-2:00 p.m. on Saturdays. Admission is free. For more information please call (605) 274-4007, email cws@augie.edu , or visit the Web site at www.augie.edu/cws.