Presentation features human adaptations to climate change
Event Details
---
Date: March 14, 2009
Times: 2:00 p.m.
Location: Gilbert Science Center Auditorium, Room 100 (at the corner of Summit Avenue and 33rd Street on the Augustana College campus)
Ticket Info: Open to the public and followed by a question/answer session. Refreshments will be served.
As we citizens of the 21st century try to deal with the effects of a changing climate, perhaps it would be useful to reflect on human adaptations to climate change in the past.
SIOUX FALLS – Leland Bement, PhD, from the Oklahoma Archeological Survey, is the guest speaker for the Third Sunday Archeology Presentation on March 15.
"From Clovis to Folsom: Paleoindian Adaptations to the Younger Dryas" is the title of Bement's illustrated lecture, which begins at 2:00 p.m. in the Gilbert Science Center auditorium. Born in Texas, Bement is an Archeologist III and part time Assistant Professor in Anthropology and has been with the Survey since 1990.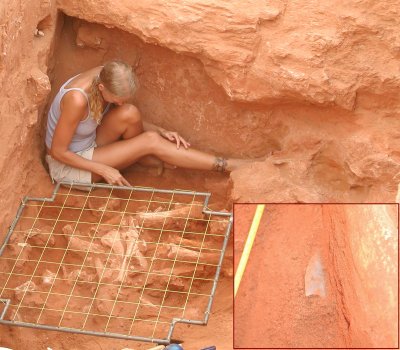 This presentation is open to the public and will be followed by a question/answer session. Gilbert Science Center is located at the corner of Summit Avenue and 33rd Street on the Augustana College campus.
Clovis mammoth hunters witnessed the extinction of mammoths and other large animals from the plains of North America. Accompanying the extinction is a change to a colder climate very similar to that seen during the height of the last glacial maximum. This colder event is known as the Younger Dryas.
Archeological investigations on the southern plains trace the adaptations of Clovis people through the Younger Dryas. These investigations track the changes from Clovis mammoth hunters to Clovis bison hunters and finally to Folsom bison hunters.
The program is funded in part by Augustana College's Mellon Fund Committee, Augustana College's Archeology Laboratory, and the Sioux Falls Chapter of the South Dakota Archaeological Society.