Visiting Poet Served with the 101st Airborne in Vietnam
Event Details
---
Date: November 22, 2009
Times: 7:00 p.m.
Location: Center for Visual Arts Atrium, Center for Performing and Visual Arts, Augustana College campus
Ticket Info: This event is free and open to the public.
SIOUX FALLS – Augustana is hosting "An Evening of Poetry with Jim Fairhall" on Monday, November 23, in the Center for Visual Arts Atrium. The program begins at 7:00 p.m.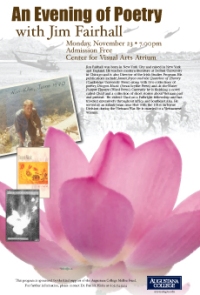 Fairhall (shown above, right during active duty) was born in New York City and raised in New York and England. He teaches modern literature at DePaul University in Chicago and is also director of the Irish Studies Program.
His publications include James Joyce and the Question of History (Cambridge University Press) along with two collections of poetry, Dragon Music (Swan Scythe Press) and At the Water Puppet Theatre (Word Press).
His current projects include finishing a novel called Chad, and a collection of short stories about Vietnam past and present. He visited Chad on a Fulbright fellowship and has traveled extensively throughout Africa and Southeast Asia.
Fairhall served as an infantryman near Hue with the 101st Airborne Division during the Vietnam War. He is the recipient of The Bronze Star Medal for meritorious achievement in ground operations against hostile forces.
This program is sponsored by the Augustana College Mellon Fund and is free and open to the public. For further information, contact Dr. Patrick Hicks at (605) 274-5434.