CWS Exhibit features the photography of Les Voorhis
Event Details
---
Date: December 2 - February 26, 2010
Times: 8:00 a.m. - noon and 1:00 p.m. to 5:00 p.m. Monday-Friday; 10:00 a.m. - 2:00 p.m. Saturday
Location: Center For Western Studies' Fantle Building, Augustana College campus
Ticket Info: The gallery is free and open to the public. Free will donations accepted.
SIOUX FALLS - The images of award-winning photographer Les Voorhis will be on display in the Madsen, Nelson, and Elmen Galleries at the Center for Western Studies' Fantle Building from December 3 through February 27. A reception is scheduled for Thursday, December 3, from 5:00 – 7:00 p.m. with a gallery talk at 6:00 p.m. The event is free and open to the public.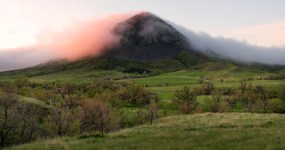 Les Voorhis has been a professional photographer since 1990. After learning the ins and outs of the photography business as a photo editor and image library manager for Stock Imagery in Denver, CO, he decided to put his skills to the test with his own work.
Les' published images have appeared in magazines, advertising campaigns, packaging, calendars, web sites, and books. Clients have included Bugle Magazine, Rocky Mountain Elk Foundation, National Forest Service, Colorado Outdoors, Game and Fish Publications, American Hunter Magazine, Pentax Corporation, Golden 411, Smith South-Western, and several others. He is on the staff of photomigrations.com online photo magazine and writes a monthly educational photo article. He also writes and shoots for the Black Hills Pioneer, a daily newspaper in South Dakota. In 2006, Voorhis published a book of photos of entitled "Spearfish Canyon - A Journey Beyond the Rim."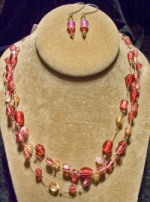 In addition, the Center will have a display of art jewelry by local artists Tara Barney, Genevieve Echols, and several others. On display and for sale will be rings, necklaces, earrings, bracelets, and other artistic jewelry creations made from stone, glass, beads, gold, silver, feathers and a variety of other materials. All the jewelry is hand-crafted.
CWS director of outreach and communication Tim Hoheisel said of the show, "Les Voorhis is a talented photographer with a sharp eye. His photos will be very striking on the walls of the galleries. With the art jewelry on display as well, this will be a unique show." All of the photographs and jewelry on display are for sale.
The Center for Western Studies is located in the Fantle Building at 2121 S. Summit Ave., Sioux Falls. Hours are 8:00 a.m.-noon and 1:00-5:00 p.m. weekdays and 10:00 a.m.-2:00 p.m. on Saturdays. Admission is free.
For more information please call (605) 274-4007, email, or visit the website at www.augie.edu/cws.
Images, right (top to bottom): Les Voorhis, "Mystic Mountain" by Voorhis, Jewelry by Tara Barney.