An Evening of Poetry with Jim Reese
Event Details
---
Date: February 20, 2011
Times: 7:00 p.m.
Location: Humanities Center, Rm 123, Augustana College
Ticket Info: Free and open to the public
Dr. Jim Reese, poet and author, will give a reading Monday, Feb. 21, at 7 p.m. in the Humanities Center (Room 123) on the Augustana College campus. The event is hosted by Augustana's Department of English and Journalism, and Dr. Patrick Hicks, associate professor and Writer-in-Residence. A book signing will follow.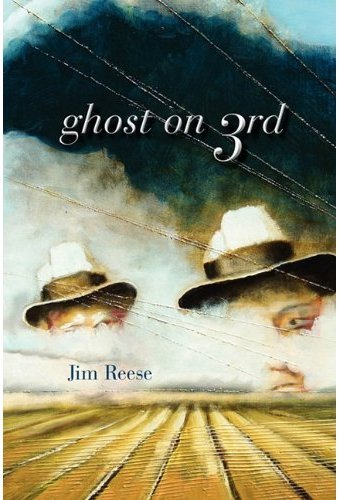 A recent review said, "Jim Reese's newest collection, ghost on 3rd, is riddled with love, latent violence, humor, and prison life. Critics who said that his last collection kicked 'like an old pump-12 gauge' will be happy to find the barrels sawed off in this book. Reese shows no sign of putting the hammer down — he takes his reader on the daily routine and long nights that are an inescapable part of raising two small daughters — shows us how family is not a burden but a complex source of joy. Ride shotgun with him down the lonesome byways of the Great Plains westward into San Quentin prison, where he has full access and isn't afraid to ask the hard questions."
Author John Price writes: "Reese's beautiful and powerful poems are born of 'wish and skin and bone,' of dirt and dignity, of faith and fry grease, of laughter and lament. To read them is to be carried to a place where risk is a promise fulfilled — whether it be the homing memory of a grandfather or eating suspicious pastries or raising children or teaching poetry to inmates. It is a place where the familiar opens into the extraordinary and, even, at times, the miraculous."
Jim Reese is an Associate Professor of English; Director of the Great Plains Writers' Tour at Mount Marty College in Yankton, South Dakota; and Editor-in-Chief of PADDLEFISH. Reese's poetry and prose have been widely published, most recently in New York Quarterly, Poetry East, Prairie Schooner, Paterson Literary Review, Louisiana Literature Review, Connecticut Review, South Dakota Magazine, and elsewhere. His new book, ghost on 3rd (New York Quarterly Books 2010), was nominated for the Pulitzer Prize. Reese has been the National Endowment for the Art's Writer-in-Residence at the Yankton Federal Prison Camp since 2008.