Autism Conference to Feature Author, Advocate Eustacia Cutler
Event Details
---
Date: June 8 - June 9, 2011
Location: Gilbert Science Center
Ticket Info: Registration deadline was June 1 and is now closed.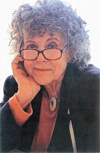 In honor of National Autism Awareness Month, Eustacia Cutler, award-winning author and mother of animal behavioral scientist and autism advocate Temple Grandin, will speak at "Lighting the Way," an annual, two-day conference on autism spectrum disorders in our community. The conference will be held at Augustana's Gilbert Science Center June 9-10.
Cutler's book, "A Thorn in My Pocket," describes the challenges of raising an autistic child in the 1950s. Her presentation, entitled "Raising a Child With ASD," will further detail her journey.
The conference will also feature Dr. Ruth Aspy and Dr. Barry Grossman, licensed psychologists and creators of the Ziggurat Model, a method of autism intervention.
Today, one in 110 individuals is diagnosed with autism, a complex neurobiological disorder that affects communication skills and the ability to relate to others. The disorder affects all racial, ethnic and social groups and typically lasts throughout a person's lifetime.
The conference includes 30 breakout sessions and is designed for educators, parents, social workers, counselors, therapists, adult service providers and those interested in learning more about autism spectrum disorders. The cost is $100 and registration is now closed at www.augie.edu/autism.
Following the conference, the Walk Now for Autism will be held from 8:30 a.m. to Noon on Saturday, June 11, on the Augustana College campus and Kirkeby-Over Stadium. For more information, contact Jennifer Miller at 605.376.5959.