Jan. 15: Artifact Caching Subject of Third Sunday Archeology Program
Event Details
---
Date: January 14, 2012
Times: 2 p.m.
Location: Gilbert Science Center, Room #100, Augustana College
Ticket Info: Free and open to the public
January's installment of Augustana's Third Sunday Archeology Program will feature Michael Fosha (shown right), Assistant State Archaeologist at the Archaeological Research Center, Rapid City, SD. Fosha's discussion on "Banking Bifaces, Cache or Cash" will begin at 2 p.m. on Sunday, Jan. 15, at the Gilbert Science Center Auditorium (GSC #100) on the Augustana Campus.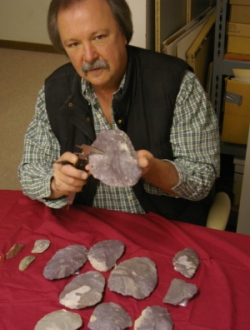 Motivated by lithic caches recently recovered in South Dakota (shown above), Fosha's talk will discuss possible explanations and motivations that prompted early people of the Northern Plains to intentionally conceal these groups of artifacts — many of which display spectacular craftsmanship. Artifact caching may have taken place for ritual reasons or for more practical reasons such as securing scarce resources. Fosha will examine evidence from three recently recovered caches in South Dakota that suggest utilitarian solutions to regionally specific environmental conditions.
The talk is free and open to the public with a question-and-answer session to follow.
This program is funded in part by Augustana College's Mellon Fund Committee, by Augustana's Archeology Laboratory, and by the Sioux Falls Chapter of the South Dakota Archaeological Society.