Jan. 19-21: Augustana College Theatrical Society Student Productions
Event Details
---
Date: January 18 - January 20, 2012
Times: 7:30 p.m.
Location: Mary Hart Acting Studio
ACTS II: Clotheslined
7:30 p.m., January 19-21
ACTS and Babies in Peril present a frenzied series of 40 student-written sketches — all performed in an hour and a half. Modeled after the improv sketch group,
The Neofuturists
, a clothesline is strung across the room and hung with pieces of paper numbered 1-40
. Each number represents a sketch. The audience calls out the number they want to see and the actors race to get through them all. The
 student-written sketch show is recommended for mature audiences and is written, directed and performed by students Travis Clark, Katelynn Kenney, Stephanie Mangin, Ryan Marks, Christina Olson, Colin Raehsler, Zack Truelson and Emily Wold.
ACTS is also holding a 50/50 raffle at the show where the winner goes home with half of the cash raised that night. $1 a ticket, 6 for $5.
ACTS III
Title and details to come
7:30 p.m., May 10-12
Past Show:
ACTS I: The Kids are Pissin' on the Front Lawn
Written by alumnus Jon Josten '10, directed by senior Laura Foiles
7:30 p.m., December 8-10
The Kids are Pissin' on the Front Lawn
 begins by introducing Abigail, a housewife, her strong-willed husband, Hammond, and their distant but quirky son, Geoffrey. On the night of a dinner party, Geoff's girlfriend, Maria, arrives shortly before Prudence and Reggie, friends of Abigail and Hammond. Through the course of the evening, details are revealed of their sordid past and their complex present.
A Talk Back by Professor Darcie Rives-East was held on Friday night's performance.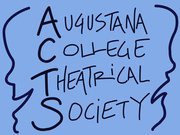 For more information and to view
pictures from Thursday's show
, visit ACTS page on
Facebook
.
---
Augustana Theatre Department
605.274.5213