Jan. 29: Library Associates Present "A Winter's Tale"
Event Details
---
Date: January 28, 2012
Times: 2:30 p.m.
Location: Mikkelsen Library
Ticket Info: $15 general admission
The Augustana Library Associates present "A Winter's Tale: From Prologue to Epilogue" at 2:30 p.m. Sunday, Jan. 29, at the Mikkelsen Library on the campus of Augustana College.

Dr. Sandra Looney, professor of English at Augustana, is the mistress of ceremonies for this program of literature and music.

The event's readers are Jean Colon '72, Wayne Knutson '50, Jon Lauck, Barb Ebeling, John Bart, and Jean Nicholson.

Music for the evening is provided by Kaija '95 and Brian Bonde '81.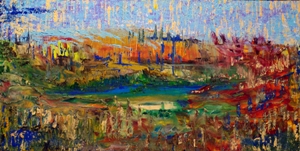 A reception will follow.
The evening will also feature a silent auction for "Sweat Lodge (Heaven Meets Earth)" an original oil on canvas painting by Augustana alumnus and enthusiastic library supporter, Robert Ruf '07. The 48" x 24" piece (pictured right) is currently on display in the Library.

$15.00 General Admission/$12.50 Library Associates members

Contact the Library for more information: 605.274.4921