Feb. 1-March 3: Exhibit Features Unique Mixed-Media Artist Linda Ackland-Kolb
Event Details
---
Date: January 31 - March 2, 2012
Times: Gallery Reception: 5-7 p.m., Friday, Feb. 10. Gallery Hours: 10 a.m. to 5 p.m., Monday through Friday, and Noon to 5 p.m. on Saturdays.
Location: The Eide/Dalrymple Gallery is in the Center for Visual Arts on the Commons Circle off 30th St.and Grange Ave.
Ticket Info: Free and open to the public.
The Eide/Dalrymple Gallery presents "Earth's Forces on Wax and Other Images: The Artwork of Linda Ackland-Kolb" on display Wednesday, Feb. 1, though Saturday, March 3. The Gallery Reception and Artist's Talk were held on Friday, Feb. 10.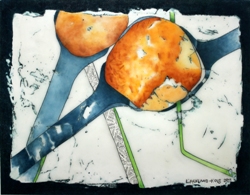 A former Sioux Falls elementary school art teacher, Ackland-Kolb applies pastel pigment onto a surface of melted and sculpted beeswax. The resulting delicate and lyrical abstract paintings will be on view at the Eide/Dalrymple Gallery through March 3. Ackland-Kolb, who had long worked in colored pencils and mixed-media on paper, came to the unusual medium of painting on a beeswax ground out of a desire to return to a more painterly way of mixing and applying color. "I needed to explore new avenues for my art," states Ackland-Kolb. "Nature provides the stimuli for the images, while the delicate pastel on beeswax ground offers a greater sensitivity to the working surface."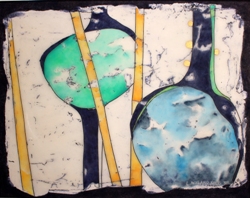 Ackland-Kolb earned a M.A. from Mankato State University and a M.F.A. in drawing and painting from the University of North Dakota. She has exhibited extensively throughout the region, earning many merit awards for her mixed-media and drawings. Her work can be found in the permanent collection of the Washington Pavilion Visual Arts Center, the Nobles County Art Center (Worthington, Minn.) and Waldorf College (Forest City, Iowa). In addition to her studio work, Ackland-Kolb has served as an arts educator and presenter for numerous programs, including for the Sioux Falls Public Schools, the Washington Pavilion, the University of Sioux Falls, Augustana College, the University of South Dakota and the Rosebud Reservation. Originally from Minnesota, she lives in Sioux Falls with her husband, John, and has two grown daughters.
Q&A With the Artist
Q. You spent 38 years teaching art in the Sioux Falls School District. What schools did you teach at and, can you talk about what that experience was like? Was it inspiring to watch young people discover the joys of artistic expression?

A. I taught at Edison Junior High, Axtel Park Junior High, Oscar Howe Elementary and Harvey Dunn Elementary. It was an amazing experience. The ability to journey with children from kindergarten through fifth grade gives you the chance to watch them grow and see how their personality changes affect their artistic growth.
Art teaches young people how to problem solve and ask questions. It also teaches them how to offer information [that can be an inspiration to others]. The techniques and strategies they learn in art can be tied to so many other areas in their lives.
Before beginning a project, I might have asked a student, "What inspires you? What spurs your interest? What colors are you going to use? What supplies will you use?" Through art, kids learn there is more than one way to solve a problem.
Q. When did you discover the artisan in yourself? Did you create art as a child or was it later on? And when did you discern that you wanted to teach art to young people?

A. As a child, I used to watch my mom do some really different and creative things in our house around art. I did some art in junior high and senior high and in college, my roommate was planning to major in art. I went that direction as well, then decided to pair teaching with it. It was a good move — I enjoyed it so much.
Q. You are retired from teaching now, correct? What's life like now? Are you doing art full time?

A. I retired from teaching in 2009. I closed one chapter of my life and, in a way, opened another. I'm moving in the direction of doing art full time and showing in different galleries. It's an exciting time.
Top right, Linda Ackland-Kolb, Rock and Metal III, pastel on beeswax ground & paper, 2011. 18"x19".
Middle right, Linda Ackland-Kolb, Rock and Metal VI, pastel on beeswax ground & paper, 2011. 18"x19".
Bottom right, Linda Ackland-Kolb, Rock and Metal V, pastel on beeswax ground & paper, 2011. 18"x19".