March 11: Violist, Sioux Falls Native Sabina Thatcher to Play with College & Community Orchestra
Event Details
---
Date: March 10, 2012
Times: 3 p.m.
Location: Mary Sommervold Hall, Washington Pavilion
Ticket Info: $12 for adults, $8 for senior citizens, free to students K-12 and those with a valid Augustana ID
Augustana College & Community Orchestra will perform with Sabina Thatcher, principal violist and Alfred and Ingrid Lenz Harrison Chair of The St. Paul Chamber Orchestra, at 3:00 p.m. on Sunday, March 11, in the Mary Sommervold Hall of the Washington Pavilion in Sioux Falls.
Thatcher, a Sioux Falls native, once played with the South Dakota Symphony Youth Orchestra and The Augustana Orchestra while in high school. She is a graduate of the Eastman School of Music and studied further with Lillian Fuchs at the Juilliard School. An active chamber musician as well, Thatcher was a member of the Rosalyra String Quartet, which made its New York debut in 1996 and received a McKnight Artist Fellowship in 2000. In addition to her tenure as principal viola of The St. Paul Chamber Orchestra since 1989, Thatcher is a faculty member at the Aspen Music Festival and School and has performed in festivals throughout the United States and abroad. She is returning for her first concert in South Dakota after many years.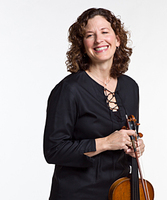 Thatcher will join the Orchestra for Vaughan Williams' moving Suite for Viola and Orchestra. The program will also feature two giants of the orchestral repertoire: Liszt's Les préludes (d'après Lamartine), the original symphonic poem inspired by an ode of Alphonse de Lamartine's, and Shostakovich's Symphony No. 9 (in E flat major, Op. 70), composed in 1945 as a celebration of the Russian victory over Nazi Germany.
The Augustana College & Community Orchestra is the area's premier community orchestra, boasting over 85 talented members selected by audition and dedicated to bringing beautiful music to everyone.
Tickets are $12 for adults, $8 for seniors, and free for Augustana students, faculty and area high-school students with identification. They are available through the Washington Pavilion Box Office.