March 30: Ansel Adams 'Masterworks' Gallery Reception
Event Details
---
Date: March 29, 2012
Times: 6:30 p.m.
Location: Everist Gallery, Washington Pavilion
Ticket Info: SOLD OUT! | Reservations were required at augielink.com/adams
The Augustana Alumni Office and the Friends of the Performing and Visual Arts at Augustana will host a private reception of the "Ansel Adams: Masterworks" exhibit in the Everist Gallery of the Pavilion Visual Arts Center at 6:30 p.m. on Friday, March 30. Dr. Lindsay Twa, assistant professor of art and director of the Eide/Dalrymple Gallery, will provide a gallery talk at 7:00 p.m.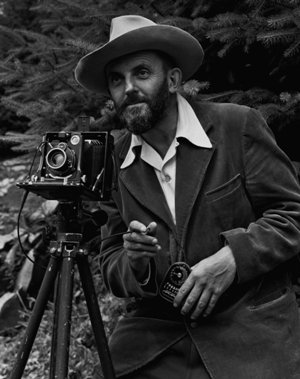 The "Masterworks" exhibition features a collection of forty-eight works by Ansel Adams (1902 -1984), about two-thirds of a selection Adams made late in his life to serve as a succinct representation of his life's work. He himself felt these photographs were his best. Called "The Museum Set," these works reveal the importance Adams placed on the drama and splendor of natural environments that might not, to the ordinary passing hiker, have revealed their secrets. Included are many of Adams' most famous and best-loved photographs which encompass the full scope of his work: elegant details of nature, architectural studies, portraits, and the breathtaking landscapes for which he is revered.
Guests will enjoy the exhibit, gallery talk, elegant appetizers and entertainment. The event is SOLD OUT. Tickets were $15 per person and reservations were required at augielink.com/adams.
Pictured top right: Ansel Adams, The Tetons and the Snake River
Pictured bottom right: A photo portrait of photographer Ansel Adams by J. Malcolm Greany
---
Alumni Office
605.274.4904