Nov. 29: Series to Discuss 'Drastic Changes in China' in the Last 20 Years
Event Details
---
Date: November 28, 2012
Times: 7 p.m.
Location: Humanities Center, Rm. 325
Ticket Info: Free and open to the public
The Department of Modern Foreign Languages at Augustana has an afternoon series called "Celebration of Cultures." Throughout the year, faculty and students will give presentations on their experiences in China.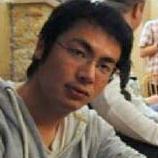 The first of these speakers will be at 7 p.m. on Thursday, Nov. 29, in Humanities 325, when Shihan Li, a Sioux Falls Seminary student from China, will discuss "The Drastic Changes Experienced in China in the Last 20 Years."
"China and Globalization" is Augustana's International Theme for the 2012-13 academic year. Designed to increase students' understanding of global issues, Augustana introduced the International Theme three years ago. Throughout the academic year, students study and support theme-related issues with planned events and activities.
---
Sam Ogdie
Instructor of Spanish
Faculty chair of Augustana's Co-Curriculum Council
Augustana College