Feb. 8: Gallery Reception for "Exploring Abstraction" Exhibit
Event Details
---
Date: January 6 - February 8, 2013
Times: Gallery Reception and Director's Talk: 5-7 p.m. on Friday, Feb. 8.
Location: The Eide/Dalrymple Gallery is in the Center for Visual Arts on the Commons Circle off 30th St.and Grange Ave.
Ticket Info: Free and open to the public.
"Exploring Abstraction," the Eide/Dalrymple Gallery's newest exhibit featuring 39 works from the Carl Grupp Permanent Art Collection, asks this question: Who's afraid of modern art?
"In the visual arts, abstraction can be defined as the conscious altering of a form observable in nature for expressive purposes. Pushed to its most stylistic extreme, abstraction becomes 'non-objective art.' This is where the artist uses no identifiable forms as subject matter. In non-objective art, artists try to liberate visual expression from needing to represent something beyond itself," said Dr. Lindsay Twa, assistant professor of Art and director of the Eide/Dalrymple Gallery. "Instead, the artwork can now be about itself, and the contemplation and response to visual elements and design principles: color, line, texture, pattern, repetition, etc."
Gallery Reception
5-7 p.m. on Friday, Feb. 8 (Director's talk at 6 p.m.)
"In the western world, abstraction is typically associated with Modern and contemporary art practices. And it is often viewed as a new and disruptive practice that waylays a greater tradition of careful recordings of the natural world. Yet in looking at art making from across the globe and from prehistoric times to the present, we find that abstraction constitutes the vast majority of artistic practices. Our western fascination with and need for naturalistic representations is actually a minority tradition," Twa said. "The works from Augustana's Carl Grupp Permanent Art Collection presented in 'Exploring Abstraction' have been selected to create a dialogue about the nature of abstraction and its infinite variety in the hands of disparate artists. In contemplating individual objects and looking at a variety of abstract works side by side, we can explore formal, cognitive, and emotional responses to pure visual expressions."
Grupp, professor emeritus of Art, served the College from 1964 through 2004.
Viewers can learn more about the exhibit at the gallery reception, set for 5-7 p.m. on Friday, Feb. 8. The event will feature a director's talk at 6 p.m.
Of the 39 works in the exhibition, many have not been displayed before, including two lithographs newly donated by the Sam Francis Foundation. Sam Francis (1923-1994) was one of the first American abstractionists to achieve international fame. Although he was influenced by developments of New York-based Abstract Expressionism, he found the color and light of French painting, and the calligraphy of Chinese and Japanese painting as equal influences to ground his expressive and spontaneous gestural abstractions.
The Eide/Dalrymple Gallery is located on Commons Circle (30th Street and Grange Avenue), in the Center for Visual Arts. The gallery is open to the public and free of charge. Hours are Monday through Friday, 10 a.m. to 5 p.m., and Saturday noon to 5 p.m. Closed Sundays.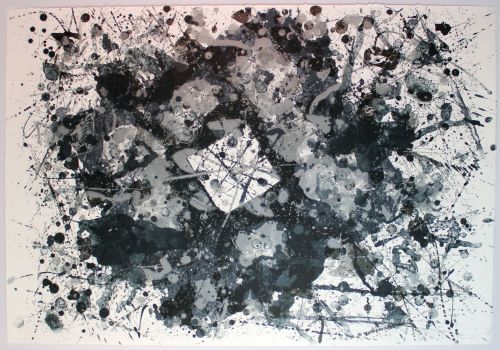 IMAGE ABOVE TOP: "Exploring Abstraction" installation photo.
SECOND IMAGE ABOVE: Sam Francis, "Untitled," lithograph.