Jan. 20: Third Sunday Archeology to Unveil Recent Discoveries at Kimball Village
DATE:
Sunday, January 20, 2013
LOCATION:
Gilbert Science Center, Room #100, Augustana College
TICKET INFO:
Free and open to the public.
EVENT DETAILS:
January's installment of Augustana's Third Sunday Archeology Program will feature Lynn Alex, director of Education and Outreach at the University of Iowa's Office of the State Archaeologist. Alex's discussion on "What's Old is New Again: Recent Discoveries at Kimball Village, A.D. 1100-1250" will begin at 2 p.m. on Sunday, Jan. 20, at the Gilbert Science Center Auditorium (GSC #100) on the Augustana Campus.
Nine hundred years ago, fortified villages in clusters of tightly-spaced earthlodges protected by ditch and wooden stockade defenses dotted northwest Iowa. Until the 20th century, the earliest and best-preserved site, Kimball Village, was buried in the Big Sioux River valley just north of Sioux City, Iowa. As part of a WPA work program, more than 9,000 stone, bone, shell and pottery artifacts, evidence of three to four houses and signs of trading with other villages were unearthed in 1939. Seventy years later, the site was re-examined as part of a project to identify cultural resources in the Loess Hills of Iowa and to answer questions about what might remain beneath the site's surface.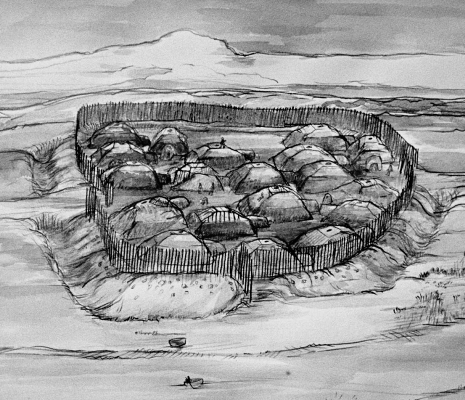 Lynn Alex received her B.A. with high distinction from the University of Kentucky and her M.A. in anthropology from the University of Wisconsin, Madison, where she also completed her preliminary doctoral studies. Since that time, she has held numerous research positions and participated in many field excavations throughout the Midwest. Alex has also authored several books, including "Iowa's Archaeological Past" (2000) and "The Immense Journey, Loess Hills Cultural Resource Study" (2010). She lived in South Dakota for over a decade where she taught, conducted archaeological research and served as a trustee for the State Historical Society of South Dakota.
The illustrated lecture is free and open to the public with a question-and-answer session to follow.
This program is funded in part by Augustana College's Mellon Fund Committee, by Augustana's Archeology Laboratory, and by the Sioux Falls Chapter of the South Dakota Archaeological Society.
Pictured top right, a collection of artifacts recovered in Iowa.
Pictured bottom right, an artistic depiction of a Mill Creek village.