Feb. 17: Archeology Presents Fort Charlotte Investigation
Event Details
---
Date: February 16, 2013
Times: 2 p.m.
Location: Gilbert Science Center Auditorium (GSC #100)
Ticket Info: Free and open to the public.
February's installment of Augustana's Third Sunday Archeology Program will feature Jay Sturdevant, archeologist at the National Park Service's Midwest Archeological Center in Lincoln, Neb. Sturdevant's discussion on "Moving Between Waters: The Archeology of Fort Charlotte and Fur Trade Logistics" will begin at 2 p.m. on Sunday, Feb. 17, at the Gilbert Science Center Auditorium (GSC #100) on the Augustana Campus.
Grand Portage Depot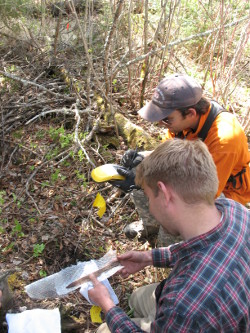 In the field at Fort Charlotte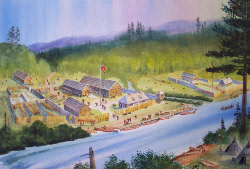 Artist Conception of Fort Charlotte
In 2009-2010, the Midwest Archeological Center conducted an archeological investigation of Fort Charlotte, a unit of Grand Portage National Monument, Minnesota. The Fort Charlotte unit of the park includes a North West Company post (Fort Charlotte) and a competing XY Company post. Both outfits represent rare examples of late 18th century undisturbed archeological resources. This project was the first research at Fort Charlotte since the early 1980s to employ current archeological field methods to better understand the archeological resources of this premier fur trade site. The preservation conditions at Fort Charlotte have the potential to provide new data on how archeological sites, and historic fur trade sites in particular, are affected by environmental and human influences that create the archeological record studied by archeologists. This presentation will discuss the results of the archeological research and examine questions about the logistical organization of the 18th century fur trade. As part of his lecture, Sturdevant will show the film "Rendezvous with History: A Grand Portage Story," which will provide the audience with a strong visual background in the native vs. Euro-American cultures involved in the elaborate mechanisms of the fur trade.
About Jay Sturdevant
During his 13-year career with the NPS, Sturdevant has worked at more than 40 NPS units throughout the country from the Rocky Mountains to the Gulf Coast. His primary research focus has been on the 18th-19th century fur trade on the Northern Great Plains and Great Lakes regions. Sturdevant holds a Master's Degree in Anthropology from the University of Nebraska and a Bachelor's Degree in Anthropology from Colorado State University. He is originally from Wahpeton, N.D.
This program is funded in part by Augustana College's Mellon Fund Committee, Augustana College's Archeology Laboratory and the Sioux Falls Chapter of the South Dakota Archaeological Society.
The talk is free and open to the public and will be followed by a question/answer session. Refreshments will be served.