Through April 27: Mythic Images of New Guinea Gallery Exhibit
Event Details
---
Date: April 1 - April 26, 2013
Location: The Eide/Dalrymple Gallery is in the Center for Visual Arts on the Commons Circle off 30th St.and Grange Ave.
Ticket Info: Free and open to the public.
The Eide/Dalrymple Gallery's newest exhibit, "The Bird and the Flute: Mythic Images of New Guinea," coincides with Augustana's "Museum Methods" course, taught by Dr. L. Adrien Hannus, professor of Anthropology and director of the Archeology Laboratory. The collection explores the complex relationships in traditional New Guinea tribal society between the spirit world and the world of the living.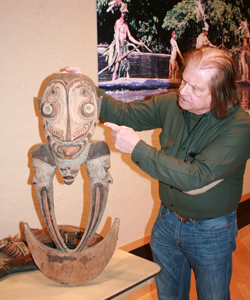 The exhibit runs from Tuesday, April 2, through Saturday, April 27. A gallery reception was Friday, April 5, featuring comments from Dr. Hannus. The exhibit is free and open to the public.
The exhibit, created, constructed and installed by Hannus and his students, showcases the profusion of art created by the aboriginal New Guinea peoples to honor the spirit world. Many of the items would have been found in the "Haus Tambaram," the sacred men's hut (a 16-foot-tall replica of which is featured in the exhibit – built by Hannus and students). The exhibit includes a large number of masks, clan boards, shields, food hooks, arrows and yam ceremony items. Many of the older items would have been used for ceremonial purposes.
The artifacts in "The Bird and the Flute" are on loan from Joe Maierhauser, a resident of Rapid City, S.D., and one of the world's largest dealers in New Guinea Tribal art.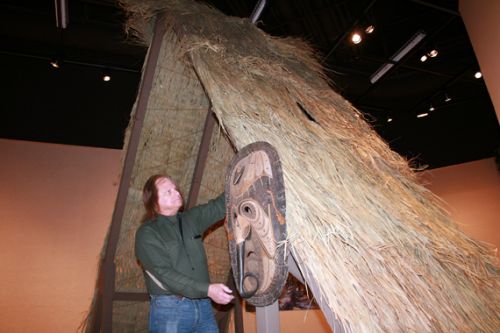 Above top: Dr. Adrien Hannus discusses a "food hook" from the New Guinea exhibit. Above: Hannus prepares to hang a mask from the 16-foot-tall replica of a New Guinea "Men's Hut," designed and constructed by Hannus' "Museum Methods" class.