April 5: Macklemore & Ryan Lewis to Perform on Campus
Event Details
---
Date: April 4, 2013
Times: 7:00 p.m.
Location: Augustana College Elmen Center
Ticket Info: SOLD OUT!
Augustana will host internationally known recording artists and hip-hop duo Macklemore & Ryan Lewis on Friday, April 5, at the Elmen Center. Doors open at 7 p.m. for the event, organized by the UBG Big Event Committee.
Sioux Falls-based hip-hop group Soulcrate will open the show.
As of Thursday, Jan. 24, this event is sold out.
The Augustana Big Event planning committee works each year to bring a big-name musical artist to Augustana's campus. Past Big Event artists include: Ben Folds, O.A.R., Widespread Panic, Third Day, Raining Jane, Goo Goo Dolls and, most recently, Sara Bareilles.
About Macklemore & Ryan Lewis
From Seattle, Wash., Macklemore & Ryan Lewis have emerged as a premier international hip-hop group known for their electrifying live shows, expertly crafted music, and innovative music videos and media.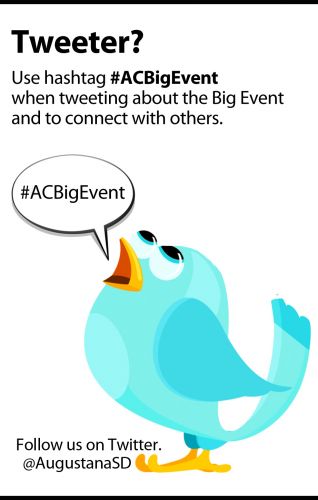 After years of building momentum with impassioned support from their devoted fan base, 2012 has been a banner year for the chart-topping group, kicked off by Macklemore's feature in XXL's Freshman Class. Most recently, they have broken new ground by independently releasing their debut full-length album, "The Heist," which shot to the No. 1 spot on iTunes and debuted at No. 2 on the Billboard charts without the support of a traditional record label. Their single "Thrift Shop" has been among the top 40 on the Billboard Top 100 chart and is still climbing, with a wildly popular music video (more than 27 million views on YouTube to date) on heavy rotation on BET and MTV2.
While on their 70-city, completely sold-out world tour supporting "The Heist," they have garnered attention in Rolling Stone, Billboard, NPR, TIME and GQ, with live performances on VH1 and an upcoming feature on "Late Night with Jimmy Fallon."
Macklemore's 2005 release, "Language of My World," was well received by circles who noted his fresh perspective and a striking balance of insight and levity. After several subsequent years of artistic stagnation and frustration due to substance abuse, Macklemore made a commitment to sobriety with a newfound, more intrinsic dedication to his music. A major catalyst to this change was establishing a partnership and on-going collaboration with Ryan Lewis, an accomplished artist in design, photography, video and musical production, who also acts as Macklemore's touring DJ. They released the VS EP in 2009 and VS Redux in 2010, the latter reaching No. 7 on the iTunes Hip Hop charts.
Throughout 2011, they released four highly successful singles, all accompanied by undeniable music videos. As an independent group with no current association with an outside record label, the duo has built their brand from the ground up since day one, and continue to be completely in-house with their music, design, photography, merchandise and all other platforms of their artistry.
About Soulcrate
DJ Absolute and siblings Attention Def and Dirt Dee built their following from scratch in their hometown of Sioux Falls, focusing on creating a new style energetic music with a high regard for soul and classic hip-hop. The trio has opened local shows for national artists including Atmosphere, 311 and The Spill Canvas. "The Heartland Panic," Soulcrate's newest release, is described as a "ground-breaking effort that shatters the genre boundaries."