Campus Celebrates International Education Week — a Week Early
Event Details
---
Date: November 8 - November 15, 2019
---
Augustana will celebrate the global perspectives and cultural diversity alive on campus during an extended "International Education Week (IEW)," Nov. 8-15.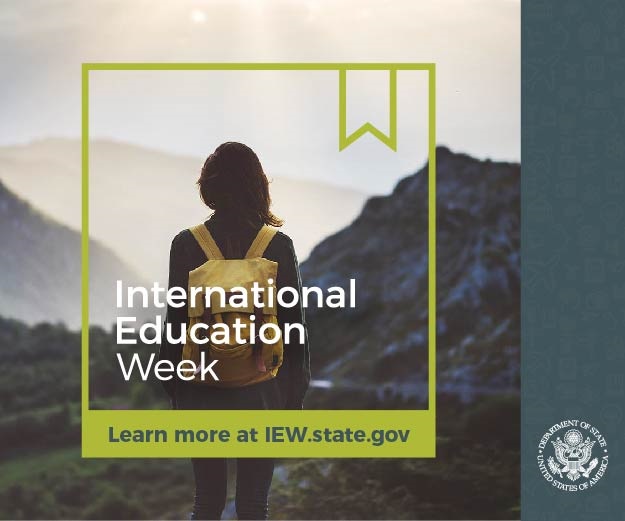 The joint initiative of the U.S. Department of State and Department of Education aims to highlight the growing importance of international education and exchange from both inbound (international students in the U.S.) and outbound (study abroad) perspectives.
Augustana's International Programs Office (IPO) and the Augustana International Club (AIC) invite you to attend activities throughout the week to celebrate and acknowledge the importance of international education on campus.
International Education Week Schedule:
Friday, Nov. 8
10-10:30 a.m. — Chapel (Chapel of Reconciliation); Senior speaker and 2019 Peace Scholar Ryan Solberg is a member of the Civitas Honors Program majoring in political science/government and international affairs.
4 p.m. — Rendezvous: Brazil (Back Alley)
6 p.m. — IEW Kickoff: World's Got Talent Show and Food Festival (Back Alley)
Monday, Nov. 11
10 a.m.- 1 p.m. — Asia and Oceania Poster Presentations (Commons Concourse)
Tuesday, Nov. 12
10 a.m.- 1 p.m. — Africa Poster Presentations (Commons Concourse)
Wednesday, Nov. 13
10 a.m.-1 p.m. — The Americas Poster Presentation (Commons Concourse)
5- 7 p.m. — Spring Break Study Away Fair (3-in-1 Room)
Thursday, Nov. 14
10 a.m.-1 p.m. — Europe Poster Presentations (Commons Concourse)
3 p.m. — OPT/CPT Session for International Students (3-in-1 Room)
4 p.m. — Employment Session for International Students with Local Employers (3-in-1 Room)
Friday, Nov. 15
10-10:30 a.m. — Chapel (Chapel of Reconciliation) Senior speaker Leah DeFreece is an Education major from Nebraska City, Nebraska.
10:40-11:45 a.m. — Critical Thinking in Community: Free Speech and Diversity (Our Savior's Lutheran Church) Panelists will respond to the issues of free speech and diversity that have been occurring on college campuses, and will consider Augustana's place in this as a university that is dedicated to free, open inquiry.
2-4 p.m. — Building Cultural Competency (Halverson Room of Morrison Commons) Understand the within-group differences that make others unique, assess their biases, stereotypes, in addition to outlining their level of cultural competence in order to work more effectively in cross-cultural situations.
4 p.m. — Rendezvous: AIC International Quiz Challenge (Back Alley)