Knutson Master Series Presents Symphony Executive Director
Event Details
---
Date: April 21, 2016
Times: 3 p.m.
Location: Kresge Recital Hall
Ticket Info: Free and open to the public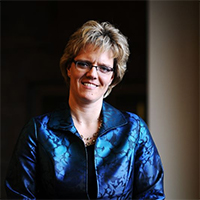 The Knutson Master Series at Augustana will present Jennifer Boomgaarden, executive director of the South Dakota Symphony Orchestra, on "Community Engagement and Partnerships" at 3 p.m. on Thursday, April 21, in Kresge Recital Hall. This event is free and open to the public.
Boomgaarden has served as the SDSO executive director since 2010. Prior to that, she was vice president of education and community partnerships and staff conductor for the Omaha Symphony. For six seasons, she oversaw the orchestra's award-winning arts education and community engagement programs that annually served more than 35,000 children and adults throughout the region. Under her leadership, the Omaha Symphony was awarded the Leonard Bernstein Award for Educational Programming in 2010. Boomgaarden is the recipient of the Helen M. Thompson Award from the League of American Orchestras, an honor that recognizes exceptional leadership, dedication and accomplishments.
---
Past Master Series Presentations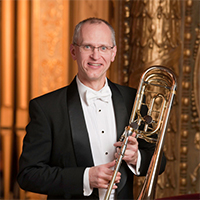 Doug Yeo, world-class trombonist, discussed trombone techniques and work with trombone majors on Thursday, April 7. In this traditional master class, Yeo discussed trombone techniques and work with trombone majors. Yeo served as bass trombonist in the Boston Symphony Orchestra from 1985 to 2012, where he held the John Moors Cabot Bass Trombone Chair. He was also on the faculty of the New England Conservatory. In 2012 he retired from the BSO and accepted a position as professor of trombone at the Arizona State University School of Music. Yeo will also serve as the guest clinician and artist for the 2016 Siouxland Trombone Festival, an event that brings trombonists from a four-state area to Augustana. Yeo performed on Friday, April 7, with the Festival and later in the evening with the Augustana Band, all at the Washington Pavilion.
---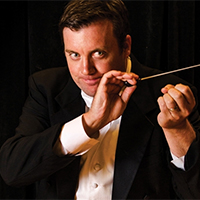 Dr. Christopher Unger, assistant professor of music and director of the Augustana Band, presented on "The Conductor and the Score," at 3 p.m. Thursday, March 10.
An award-winning conductor and a graduate of the Eastman School of Music, Unger will use this session to look at the conductor and his/her relationship with the score. Specifically, this session will examine how the conductor interprets the composer's notation, the realization of the score, and the interpretation of the score.
---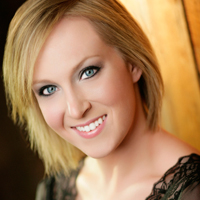 Professional opera singer Lindsay Ammann '06 presented on "Opera Arias," at 3 p.m. Thursday, Feb. 11.
A 2006 Augustana grad who studied with Cheryl Koch, Ammann was a national a semi-finalist in the 2007 Metropolitan Opera National Auditions and has gone on to a  successful opera career both in the U.S. and abroad. Called "a force to be dealt with" by Opera News, Ammann is rapidly rising as a radiant star in the opera world. The session will end with a Q & A about her ascent into the world of professional opera and the realities of sustaining a healthy and active life as a professional singer. 
---
The Knutson Master Series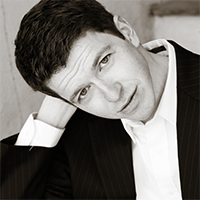 at Augustana University presented Dr. Stephen Beus, pianist at 3 p.m. Thursday, Feb. 4.
In this traditional master class, Beus, a featured artist of Augustana's Lee Piano Festival, discussed piano techniques and work with piano majors. Born and raised on a farm in eastern Washington, Beus began lessons at age 5 and made his orchestral debut four years later. He went on to win numerous national and international competitions throughout his youth, including the Juilliard School Concerto Competition. Beus holds degrees from Whitman College, The Juilliard School, and Stony Brook University. He is a Steinway Artist and currently teaches at the University of Oklahoma.
---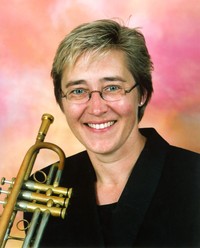 Pianist Dr. Lynn Erickson, member of the St. Paul Chamber Orchestra and trumpet instructor, presented on "Everything You Wanted to Know About the Trumpet (But Were Afraid to Ask)" at 3 p.m. Thursday, Nov. 19.
A Minnesotan native, Erickson has played second trumpet for the Saint Paul Chamber Orchestra since 1991. She earned both an MFA and DMA at the University of Minnesota and is an active Twin Cities performer whose credits include the Minnesota Orchestra, Mill City Opera and Broadway productions at the Ordway Center. She currently holds adjunct faculty status at both Augsburg and Macalester Colleges.
---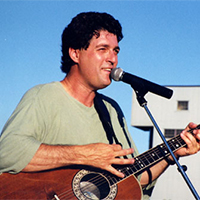 Music entrepreneur Phil Baker presented on "Music Innovation and Entrepreneurship" at 3 p.m. Thursday, Oct. 22.
Technology has changed the way people interact, discover, and listen to music, Baker says. Musicians need a solid business foundation, digital fluency, an understanding of the industry, as well as business savvy to reach goals, establish a career, and sustain a life in music. This lecture will explore topics such as promotion in the arts and entertainment industry, building a portfolio of experience, and content marketing through new media.
A graduate of South Dakota State University and the University of Miami, Baker has 30 years of experiences in the music industry as a live performer, recording artist, content developer, and children's music specialist.
---
About the Knutson Master Series
Named in honor of Dr. Dennis Knutson, principal flutist and longtime member of the Augustana College/Community Band, these 50-minute presentations feature special topics and or master class presentations for those interested in the music industry and/or performance.
"By definition, a master class is a class given by an expert, especially a musician, for exceptional students, usually presented in public. For us, every master class will be a unique event. The overall tone and content of a master class is shaped by the personality of the expert giving it, and people who achieve expertise in music tend to have very colorful, strong personalities," said Brad Heegel, administrative director of the performing and visual arts at Augustana. "One of the things people will most enjoy about each class is the opportunity to spend time with these masters and observe how they immerse themselves in the details of music or their work within the field, engage with their students, and create an experience that the audience could share in as well. In some master classes, Augie students will be selected to perform and the 'master' will work with them in front of the audience. Both student and audience gain from this exercise — the student from picking up valuable tips; the audience by seeing how this process works."