Sign Language Immersion Conference
Event Details
---
Date: July 12 - July 14, 2016
Times: On Tuesday, July 12, and Wednesday, July 13, 8 a.m. to 9 p.m.; on Thursday, July 14, 8 a.m. to 5 p.m.
Location: Augustana University Madsen Center
Ticket Info: Registration is now open.
The 2016 South Dakota ASL Immersion event July 12-14, 2016, provides biennial training and development to both professional and pre-professional sign language interpreters in an ASL environment.
Registration for this event is now open.
Schedule
The Schedule for the event — Last updated 4/14/16.
Presenter & Workshop Summaries
2016 ASL Immersion Presenter
We proudly announce the 2016 South Dakota ASL Immersion presenter.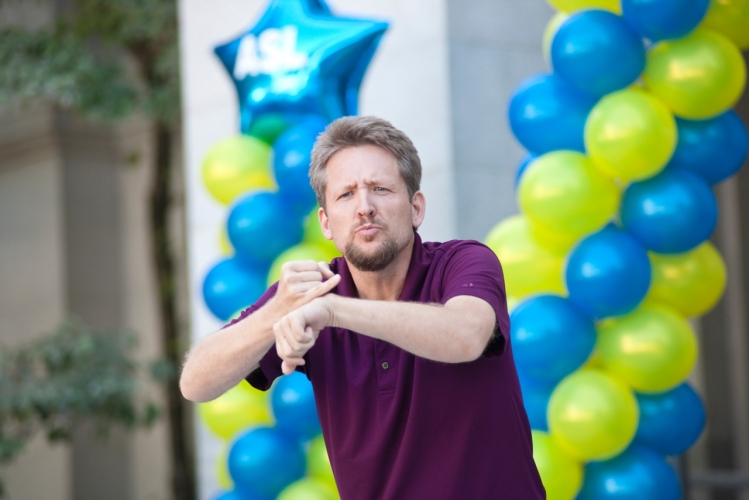 Marvin Miller has served as president of the Indiana Association of the Deaf (IAD) and taught over 500 hours of Deafhood classes. His accomplishments incllude launching several monthly newspapers of, for and by the Deaf and signing community including: The Deaf Michigander and DeafNation; he later helped launch SignNews. Marvin has worked in media, video relay service and consulted with organizations on business development. Marvin currently teaches Deafhood 101 and 201 in Indiana and other states. He is a graduate of the Model Secondary School for the Deaf and is currently attending Gallaudet University pursuing a degree in Deaf Studies. Marvin lives in Fishers, IN with his four Deaf children where he enjoys thinking about how to create a better future for the Deaf and signing community. He aspires to resurect the world's first fully integrated sign language town populated by a variety of ASL/English bilinguals who primarily use American Sign Language as the main source of communication.
Mentors
A variety of highly qualified Deaf mentors will be working with participants in a 3:1 ratio throughout the entirety of the immersion. The team will work together to select various locations throughout the Sioux Falls area to serve as the authentic learning environment for that day. Mentors will challenge the "mentees" to use various signing techniques to describe scenes, clothing, events, etc. This is a fun and exciting way to experience sign language.
Participants
The South Dakota ASL Immersion is designed to provide a rich signing environment to any and all sign language interpreters and students of the profession. This exciting event is an immersion experience not soon forgotten! All participants, presenters and mentors communicate using American Sign Language throughout the entirety of this event. Participants must have a moderately proficient level of communication in ASL. This requirement roughly equates to being a junior in an interpreter training program or having completed ASL IV or above.
Registration 
The $150 registration fee includes all educational experiences, meals, breaks, housing, materials, evening activities and Registry of Interpreters for the Deaf (RID) continuing education units (CEUs). The pricing is set, regardless of your housing preference. The deadline to register is Sunday, July 3, 2016, and registration is now open.
Cancellation Policy
Cancellations prior to Friday, June 1, 2016, will be refunded in full. From June 1-15, 2016, requested cancellations will be refunded at 50%. No cancellations will be refunded after June 15, 2016.
Lodging
Overnight accommodations are available on campus in Stavig Hall. Although the cost for lodging is built into the registration fee, we do need to know the total number of rooms to reserve. Please complete the registration housing accommodation information. Each room is supplied with linens and toiletries. If dorm life is not your preference, a variety of area hotels are available at www.augie.edu/lodging.
CEUs

The DO-IT Center is an approved RID CMP Sponsor for Continuing Education Activities. This program is offered for a total of 2.1 CEUs in both GS and PS at the little/none Content Knowledge Level.
Augustana strives to ensure there is accessibility to activities and programs for people with disabilities. If you require ADA accommodations, please contact Christa Gunderson at least two weeks prior to the conference.
---
Contact Us
If you have questions or need further information about the conference, please contact us.
Christa Gunderson
cgunderson@augie.edu
605.274.4628 (W)
605.261.7840 (C)
Marlee Dyce
mdyce@augie.edu
605.274.4629 (W)
605.261.2868 (C)
Augustana Education Department
2001 S. Summit Avenue
Sioux Falls, SD 57197