Transitory Memory: Paintings by Donald Johnson ('09)
Event Details
---
Date: September 26 - October 4, 2014
Times: Exhibit runs through Saturday, Oct. 4. On Friday, Sept. 26, an artist's talk will be held at Noon in the gallery; a reception is set for 7 p.m. that evening
Location: Eide/Dalrymple Gallery
Ticket Info: The exhibit, artist's talk and reception are free and open to the public.
The Eide/Dalrymple Gallery will present Transitory Memory: Paintings by Donald Johnson '09 beginning Thursday, Sept. 4, through Saturday, Oct. 4.
The exhibit will feature two events on Friday, Sept. 26, in the gallery:
Noon: an artist's talk will be held at Noon
A reception with the artist will be held at 7 p.m.
About the Artist
When Don Johnson enrolled at Augustana, he majored in business during the first two years while taking art classes for enjoyment and stress relief. With a push from art professors and a new confidence, Johnson decided to pick up art as a second major, but with no intentions of pursuing art as a career.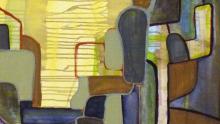 "Life Without Warning," by Donald Johnson.
During his junior and senior years at Augustana, Johnson's art continually matured as his fundamentals improved. Painting, drawing, and screen-printing served as Johnson's preferred mediums. His hard work and growth as an artist earned him praise from faculty in his senior year. Augustana professor Scott Parsons influenced Johnson's decision to pursue graduate school in the final weeks of his undergraduate career. Three of Johnson's screen prints have been submitted into Augustana's permanent collection. He now has artwork sitting in the same room as art greats such as Picasso, Goya, and Warhol.
After graduating with majors in business administration and fine art, Johnson did not take the road most traveled. He pursued his artistic passion while working at a bank to pay rent. Johnson began printing posters for local music events and collaborated with other Augustana College graduates to form what is now Harlequin Print Studio.
Being accepted into the MFA program at the University of Idaho has undoubtedly been a life changing event in Johnson's life. There he focused on painting and screen printing, taught drawing, design and printmaking, served as the director of the Reflections Gallery, and had two residencies in Italy.
Johnson has been exhibiting in group shows primarily in the Midwest and his solo exhibitions include the Mace Mead Works, Dayton, Washington, the Reflections Gallery, Moscow, Idaho, and the James Memorial Visual Art Center, Williston, North Dakota.
"This body of work is inspired by my past travels in Italy and filtered through my current experiences," Johnson said. "The organic construction of the historic Italian villages has greatly influenced the shapes and spaces within my work. While the work is inspired by historic scenery, my play with perspective, line, and color bring a sense of humor to my artwork. While on the surface the work appears humorous, an underlying struggle is veiled by layers of paint. My process is an intuitive layering of past experience that is developed through the relationship between artist, subject and medium. With no pre-determined outcome, the intersection between myself and the medium forces this combination of whimsy and tension to emerge."
Image above: "Life Without Warning," by Donald Johnson.
---
The Eide/Dalrymple Gallery is located on Commons Circle in the Center for Visual Arts at Augustana College. The gallery is open to the public and free of charge. Hours are Monday through Friday, 10 a.m. to 5 p.m., and Saturday noon to 5 p.m. Closed Sundays.